- A chef caught a couple of rattlesnakes to cook.
- After the snakes were beheaded, gutted and skinned, one of them came back to life and started to defend itself!
- Having killed and cooked plenty of snakes before, the chef said that it was the first time he has killed one that has come back to life.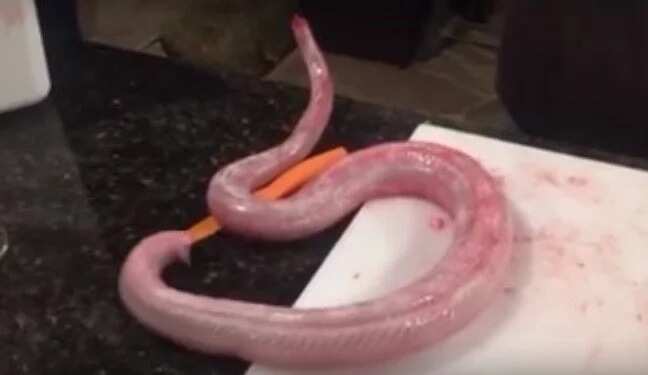 A video of a headless and skinless snake moving around like an ordinary snake and giving a couple of chefs the scare of their life has made an impact on the internet.
The chef in the video caught several rattlesnakes and was about to cook them when one of the poor reptiles came back to life despite having been beheaded, gutted and skinned 16 hours earlier.
Naturally, the chef backed away from the zombie snake and said: "Look at him, he is mad. He is pissed off. That's one mad son of a bitch right there and he is gutted and dead."
READ ALSO: Girl's father asked her to come home; what she does next will shock you!
The chef pointed out that there is another snake on the chopping board that has also been beheaded, gutted and skinned but was not moving around like the zombie snake.
"But this snake here. He ain't finished yet. He is mad. He is pissed off," the chef explained.
The zombie snake was then flipped over by the chef in order to prove that the snake has already been gutted with no more internal organs.
READ ALSO: Woman caught walking naked in public, find out why
He then commented that he has already killed and ate many snakes in his lifetime but that was the first one that came back to life and continued fighting.
One viewer of the video commented that the snake was already dead but its neurological system includes motor roots at every vertebra. For this reason, the snake can continue moving even after its brain and heart have already been removed from its body. - DN, Kami Media
READ: PHOTOS: This story of a young girl with cancer will make you cry
Source: Kami.com.ph