20 foreigners hacked to death in Dhaka siege
- 20 foreigners found chopped to death in Bangladeshi siege
- Islamic State has claimed responsibility for the attack
- Restaurant employee reported that the attackers were carrying crude bombs, swords and pistols
Twenty people held captive were killed after being taken hostage at a cafe in the Bangladeshi capital Dhaka. They were hacked to death with sharp weapons during the terrifying siege.  An army officer revealed that most of the victims were either Italian or Japanese, but did not give a precise breakdown of the toll.
While attending a press conference held in the afternoon local time at the Bangladesh army headquarters, Brig-Gen Nayeen Ashtaq Chowdhury confirmed that the foreigners' wounds indicated that they died through multiple stabbings from locally made sharp weapons. The police and military had broken through the siege with Operation Thunderbolt, which lasted from 7:40 am to 8:30 am.
Officials had reported earlier that six gunmen were killed when security forces assailed the cafe just this morning, while two police officers were shot dead in a firefight that flared up at the start of the siege on Friday night.
Two separate sources - a paramilitary officer and a rescue worker - said that the victims had deep and severe wounds to their necks and throats.
READ ALSO: 42 dead, 239 injured in Istanbul bombing [Updated]
One Japanese and two Sri Lankans were rescued, along with a dozen Bangladeshis.
Six of the attackers were shot down during the raid on the Holey Artisan Bakery, an expatriates' favorite.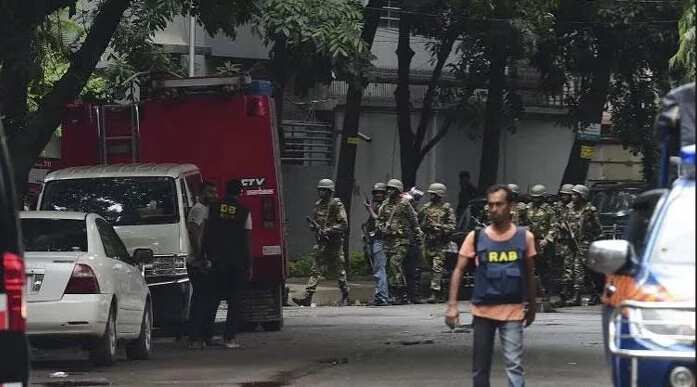 According to the SITE Intelligence Group, which monitors jihadist activity online, Islamic State has claimed responsibility for the attack. Sumon Reza, a restaurant employee who had witnessed the attack and managed to escape, revealed to Bangladeshi media that the attackers had grabbed hostages and shouted "Allahu Akbar" before setting off explosive devices.
READ ALSO: Unknown group bombs Christian village in Lebanon
"They blasted several crude bombs causing wide-scale panic among everyone. I managed to flee during this confusion," he said. "They came armed with pistols, swords and bombs."  
Bangladesh has been the site of a series of attacks recently, mostly involving machetes and targeting atheists, religious minorities and bloggers. -
RELATED: Man faked terror attack, triggered major security ops
Source: KAMI.com.gh