MILF pushes through the implementation of BBB
- During the campaign period, President Rodrigo Duterte voiced out his plan to push for federalism, a new form of government
 - President Duterte said that only federalism can bring about much-wanted peace in chaotic Mindanao
 - The Moro Islamic Liberation Front (MILF) reserved its stand on the certainty of the effect of federalism and insisted the passage of the Bangsamoro Basic Bill (BBB) as a law.
The Moro Islamic Liberation Front (MILF) continues to push through the passage of the Bangsamoro Basic Bill (BBB) in the Congress, albeit the fact that federalism, a change in the government, is on its way.
The Bangsamoro Basic Bill seeks to create a new autonomous region.
"We say that federalization per se may solve the general problem of the country but we feel that it may or may not solve the specific problem in the Bangsamoro homeland," said Al Haj Murad Ebrahim, chairman of the MILF.
 READ ALSO: 5 problems in grassroots level Duterte want to resolve
"We will still push for the continuity of peace process and then the implementation (of the Comprehensive Agreement on the Bangsamoro), because we said practically the negotiation has already ended. It's a matter of implementation of the agreement (through BBB)," Murad said.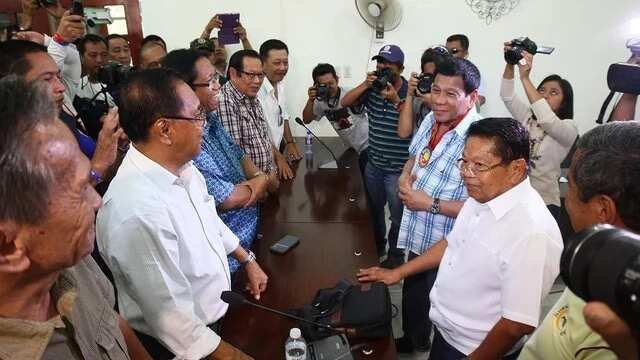 Duterte, focusing on federalism as a solution to injustices amongst the Mindanaoan, holds the belief that the Moro rebels may be interested in the change of government with the condition that important parts of the BBB are indicated therein.
According to MILF Vice Chair for Political Affairs Ghadzali Jaafar, the MILF are not opposing federalism, "but we believe that we can help more significantly if the BBL will be passed ahead of the change to a federal system."
 READ ALSO: Duterte's 'change' threatens Philippine democracy
Resolutions are already filed by the camp of Duterte, led by House Speaker Panteleon Alvarez, to initiate debate processes regarding having the federal system of the government.
Duterte's allies, led by incoming House Speaker Pantaleon Alvarez, have already filed resolutions to jumpstart the debate on establishing a federal system of government.
President Duterte is known for talking with the Moro rebels.
READ ALSO: LOOK: Roxas slams Duterte's federalism
Source: KAMI.com.gh