Drilon files bill to allow president crisis powers
- Sen. Franklin Drilon filed Senate Bill No. 11 authorizing the President to use simpler and faster methods of procurement for infrastructure and transportation projects
- The proposed Transportation Crisis Act of 2016 will be effective for two years
- A 2013 study indicated that the traffic crisis costs the country PHP 2.4 billion daily
Sen. Drilon introduced a six-page bill which aims to address the unbearable traffic in Metro Manila and other major cities in the country like Cebu and Cagayan de Oro.
"The emergency power being sought for President Duterte will capacitate him in addressing the horrendous traffic situation within and outside Metro Manila. [It is] already a 'necessity' given the magnitude of the transportation crisis that not only impedes the mobility of people, goods and services, but also threatens the livability of our cities," Drilon said in a statement.
Drilon further stated that the Philippines suffer great economic loss daily due to this problem and if left unresolved could balloon to PHP 6 billion.
READ ALSO: LOOK: Duterte's commemorative coin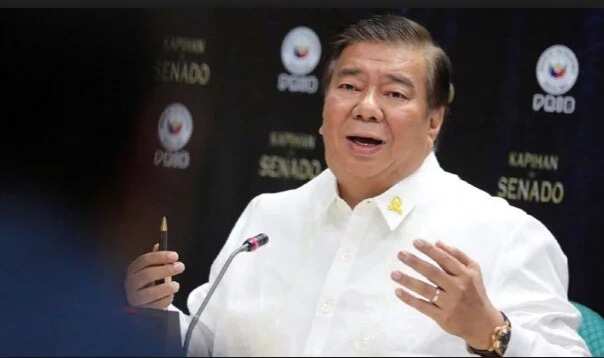 The same sentiment is included in the bill's explanatory note: "It is imperative therefore to give the President of the Philippines emergency powers to immediately address the crisis, otherwise its cost to the economy and environment, as well as to the functionality and livability of our cities will continue to hamper our overall growth and development."
To address the issue, Drilon proposed four main things.
First, that alternative modes of procuring materials, equipment and services must be utilized by the Duterte administration such as selective bidding (where the government may invite preselected suppliers or consultants), direct contracting (a single supplier submits its proposal which "may be accepted immediately or after some negotiations"), repeat order (the previous winning bidder will "replenish goods under a contract previously awarded"), shopping (procurement off the shelf "directly from suppliers of known qualification"), and negotiated procurement (speedy option in times of emergencies or calamities).
READ ALSO: LOOK! Cable cars in the city soon
Whichever measure is chosen, "the President shall ensure that the most advantageous price for the government is obtained and that the procedure is undertaken in a transparent manner."
Second, lower courts will be prohibited from issuing temporary restraining orders or injunctions against critical transport-related projects. That power will rest solely with the Supreme Court.
Third, the bill imposed a bar on court orders that could inhibit right-of-way acquisition, bids and awards for transportation projects, the implementation or operation of any transportation project identified by the President, the termination of transportation projects and "the undertaking or authorization of any other lawful activity necessary for any transportation project identified by the President."
READ ALSO: Emergency powers, a must for Duterte's traffic reforms
Fourth, to centralize traffic management in the Metropolitan Manila Development Authority (MMDA) and the Department of Transportation (DOT).
Drilon believes that the cause of our traffic woes is due to "poor enforcement of traffic rules" since several government agencies have overlapping traffic-related functions such as the MMDA, the DOT, the Land Transportation and Franchising Regulatory Board, the Land Transportation Office, and local government units.
In order to centralize such functions, Duterte must be granted the power to "reorganize" the overlapping agencies, to "abolish or create offices; split, group, or merge positions; transfer functions, equipment, properties, records and personnel; institute drastic cost-cutting measures, and take such other related actions necessary". - IS, Kami Media
RELATED: Duterte should be given emergency powers to solve Metro traffic
Source: KAMI.com.gh