Girl rants on Twitter: You're not my boyfriend, dad!
- A female user ranted on Twitter about how her father provoked her
- Her father was allegedly angry at her for coming home late
- Netizens bashed her for being an ungrateful child
Social media has indeed become a platform where we can all freely express what we feel,  but the freedom of expression indeed comes with a price.
A woman on Facebook received a lot of attention after posting rants on her Twitter account.
This woman (identity intentionally hidden to preserve her privacy) made plenty of netizens furious after a series of troubling hateful messages in one of her social media accounts.
READ ALSO: LOOK: Leni teaches supporters how to deal with bashers
In her post, she ranted about a person who was allegedly enraged at her for coming home late. One of her friends commented and asked who it was, and she then responded that it was her father.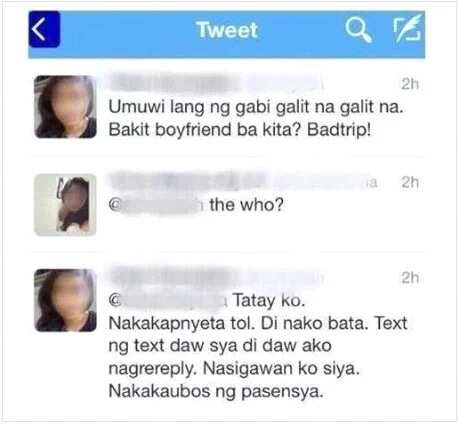 What affected netizens was that her anger was merely due to her father who texted her to come home early, just like any other caring father. She then responded in hate saying that her father was not her boyfriend, and had no right to be mad and scold her.
The exchange of tweets received a surge of attention from random people all over the Internet. It quickly became viral as people responded against the girl. Many of the netizens commented saying that she had no right to talk to her father that way.
READ ALSO: Nonito Donaire Jr. schools bashers regarding gay biblical references
Many shared their displeasure towards her lack of respect and myopic view of the role of the father.
It saddened a lot of netizens how most young people from this generation tend to have an affinity towards their boyfriends over their fathers.
Some netizens told her to just leave their home if she cannot afford to respect her father. Many reminded her to be thankful for having a father because a lot of people out there are not fortunate enough to have parents, or to have people to care for them.
READ ALSO: Miss Zamboanga explains #ElNinoLaNina answer; responds to bashers
These reactions are not surprising considering the Filipino culture of close family ties. Unlike other liberal countries, we Filipinos show a great deal of love and care for family.
Perhaps millennals have grown to appreciate this culture less and less.
READ ALSO: Claudine Barretto claps back at rude commenters: "Leave our family alone!"

Source: KAMI.com.gh