Duterte and Aquino: Battle of the Insignias
- Duterte was seen wearing a PH flag pin while Aquino adorned his yellow ribbon during the former's inauguration on June 30
- Netizens were quick to spot the difference between the two
- Duterte's supporters said how he represents the whole nation unlike Aquino's whose symbol only speak about his family and political party
- In defense of Aquino, his followers claim that it merely represents the democracy that was won back after the first People Power Revolution
With everybody following closely on President Rodrigo Duterte's every move during his inauguration, it was no longer a surprise on how people took notice even the tiniest of details – a pin on his barong.
The former Davao mayor wore a long-sleeve polo barong for the traditional presidential turnover on Thursday, June 30. Before taking his oath as the 16th president of the country, he first had a courtesy call with outgoing President Benigno Aquino III in the morning.
They spent nearly 30 minutes together, followed by Aquino's departure honors at the grounds of the Malacañang Palace.
READ ALSO: Find out what Duterte, Robredo, stars wore during the inauguration
With the two most powerful men of the country standing side by side, the people managed to point out a difference between the pair. Duterte's barong was adorned with a pin of the Philippine flag, while Aquino was wearing his usual yellow ribbon insignia.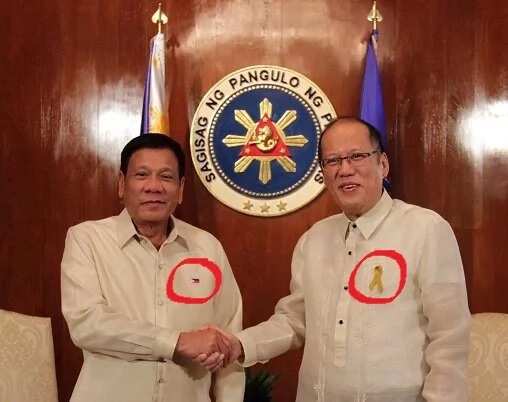 This posed several arguments online, with Duterte's supporters proudly claiming how he represents the entire nation unlike Aquino who only wishes to represent the exclusive minority of his family and his political party. However, supporters of the previous president were quick to defend him, asserting that the yellow ribbon was a symbol for the democracy that the republic gained back after the first People Power Revolution.
READ ALSO: LOOK: Duterte's commemorative coin
Several netizens expressed their satisfaction on Duterte's chosen symbol, sharing how it was a refreshing sight to see. Other felt that it was about time the nation used the PH flag again instead of the yellow ribbon, while some added feeling more united that the current president is a 'president for all and not just a single color.'
Duterte proved that he indeed plans to serve all in his inaugural speech.
"I was elected to the presidency to serve the entire country. I was not elected to serve the interests of any one person or any group or any one class. I serve everyone and not only one."
 READ ALSO: Rift between Duterte and media widens; here's why
Source: KAMI.com.gh