Pres. Duterte meets vice president Robredo for the first time
- President Rodrigo Roa Duterte and Vice President Leni Robredo met for the first time
- The two leaders are cordial, yet awkward in first meeting
- Robredo loses NAPC against activist Liza Maza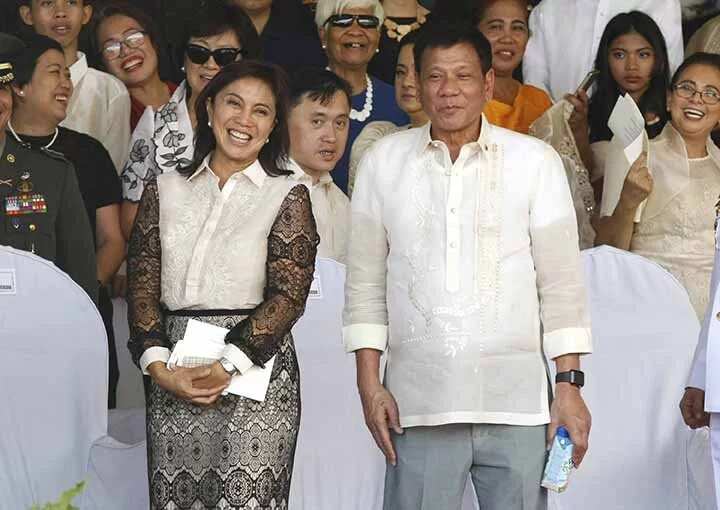 President Rodrigo Roa Durterte and Vice President Leni Robredo finally met at the turnover rites of the Armed Forces of the Philippines (AFP).
The much anticipated meeting of Philippines' top leaders finally happened. While the two are cordial upon their first meeting, there is awkwardness in the air as the two sit a chair apart. In between them was outgoing Acting Chief of Staff Lt. Gen. Glorioso Miranda.
"This is the first time that I meet you personally," Duterte said when he acknowledged Robredo at the start of his speech.
"I would have preferred to be seated beside you but nandyan si defense, e," he joked causing laughter.
READ ALSO: 5 problems in grassroots level Duterte want to resolve
There is awkwardness and an invisible wall between the two leaders. Duterte and Robredo are from opposing political parties that pitted against each other for national positions. After the polls, Robredo expressed her desire to meet President Duterte. Even during the elections, Robredo said that she will offer her full support to the new president.
However, Duterte denied Robredo of holding a joint inauguration and did not appoint Robredo to any cabinet positions, which hinted divisiveness in the incoming administration. Many think that this is because of Duterte's relationship with Ferdinand "Bongbong" Marcos who ran against Robredo.
Meanwhile, Robredo loses desired cabinet position after Duterte appoints Makabayan activist Liza Maza as head of National Anti-Poverty Commission. Robredo has expressed desire to spearhead poverty alleviation programs to reach out the "laylayan" of society. However, Robredo said that her goal in her first 100 days in the office is to visit the smallest and farthest barangays in the Philippines.
READ ALSO: 'The Duterte Manifesto' compiles death threats made by new president
Source: KAMI.com.gh