Media banned from Duterte's inaugural
- The Malacañang Press Corps and other journalists were prohibited from covering President Duterte's inauguration last Thursday
- Reporters feel like the move challenges free press
- The President has recently been under fire for comments he made regarding journalists and whistling at a female reporter on camera
Change is not going to be easy for media outlets under the current administration. Just last Thursday, all journalists, except for the state-run broadcaster Radio TV Malacañang (RTVM), has been denied access to the Rizal Ceremonial Hall where President Duterte took his oath.
During the event, media outlets were only given access to the video footage and photos released by RTVM and were made to monitor the same in a separate building inside the Malacañang compound.
Presidential Communications Operations Office Secretary Martin Andanar said that the decision was simply a matter of logistics. "Talagang masikip lang talaga sa loob. Masikip sa loob ng Rizal Hall. Hindi siya ganoon kalaki ang espasyo," Andanar was quoted as saying in an ABS-CBN article.
(It's really tight inside. It's tight inside the Rizal Hall. It's not that spacious.)
The move drew negative reactions from the press. A veteran broadcast journalist, name withheld, said it was "unfortunate" that he and other members of the media were not able to "freely carry out our work as chroniclers of history on this very historic moment."
READ ALSO: Duterte-Robredo first meeting: Awkward!
Further, he stated that, "While we respect the protocols of Malacañang, we could have discussed ways to cover the inauguration while respecting the restrictions. What we saw today was tantamount to prior restraint to a free press, which is not good for our democracy."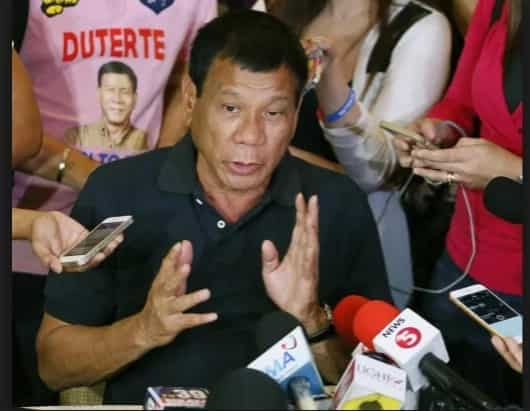 This is not the first time that President Duterte clashed with the media. Prior to assuming office, he made a comment that seemed to legitimize the killing of corrupt journalists. On a separate occasion, he was caught on camera whistling at a female reporter during an interview.
Due to these incidents, Presidential Aide Christopher Go told reporters that President Duterte will no longer hold press conferences. All information will be coursed through PTV-4.
READ ALSO: Duterte gave PNP a warning; find out what he said to them
Bernard Testa, former president of the Presidential Photographers Association and now an Interaksyon.com photographer, told Inquirer that he wished Duterte understands that, "We [journalists] are not your enemies, but partners in informing the public."
He also argued that the trouble between the President and the media could just be a case of "miscommunication". "The differences he has with the media could just be a result of 'lost in translation. We can have a dialogue and thresh out our differences," he said. - IS, Kami Media
RELATED: WATCH: Duterte to bring Malacañang closer to the people
Source: KAMI.com.gh