- A video of woman's child abuse in a fast food chain went viral
- Netizens commented that the person who took the video did nothing to stop the abuse
- Postpartum depression play a part in the change in behavior of mothers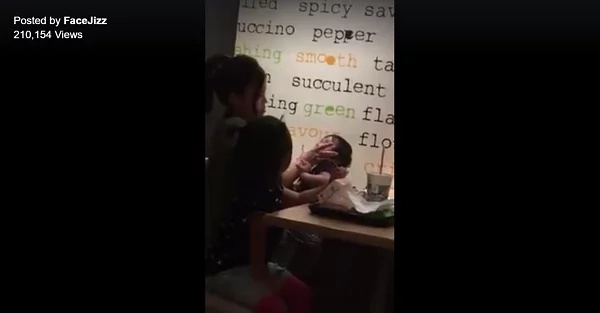 A viral video circulating in social media shows a woman abusing a baby in McDonald's.
The woman is with two kids - one is a toddler around three or four years old, while the other is still a baby. The baby started crying and caught the attention of the person who took the video. The video showed the woman getting pissed with the baby's wailing.In anger, she slapped the baby then covered its mouth to prevent it from making a loud noise inside the establishment.
Fellow customers, even the one who took the video, did not confront the woman. It is unknown if the lady is the mother of the children. Nevertheless, it is clear that the woman committed child abuse.
READ ALSO: LOOK: 13 year old Israeli girl fatally stabbed by a teenager – mother's reaction was devastating
Meanwhile, the person who took the video get flak from netizens saying that he or she could have made a bigger difference if she called out to the woman and asked her to stop hurting the kid.
Commenters gave their two cents on the video, the lady is young and may have not known the responsibilities of having children. Others are angered by the video and tagged DSWD to save the kids from their alleged abusive parent.
This is not the first time that a mom harms her baby. In 2014, a teenage mom from Cebu was arrested for paricide after allegedly killing her one-year-old baby. The mother allegedly got mad when her brother woke her up to feed the baby who was crying, apparently because he was hungry. But, instead of feeding the boy, the suspect threw him against the wooden door, hitting his head causing severe head injury. The relatives of the teen mom reported the incident to the police, resulting to her arrest.
According to experts, this behavior reportedly stemmed from postpartum depression. Some young moms are not strong enough to handle the duties of being a parent.
Watch the video of the child abuse below.
READ ALSO: LOOK: woman fires nanny; you will be shocked when you find out why
Source: Kami.com.ph