Duterte gave PNP a warning
- In the assumption of command by PNP chief Director dela Rosa, Duterte gave the PNP a heads up on what he expects of them in the next six years
- He said that if the PNP does its duty, he would be willing to die for them
- Duterte also talked about making sure that police officials who do well are rightfully compensated
In his address to the Philippine National Police, recently inaugurated president Rodrigo Duterte warned the police to not commit abuses within the law enforcement agency.
Duterte even said that there will be "zero tolerance" for any reported abuse done by the institution.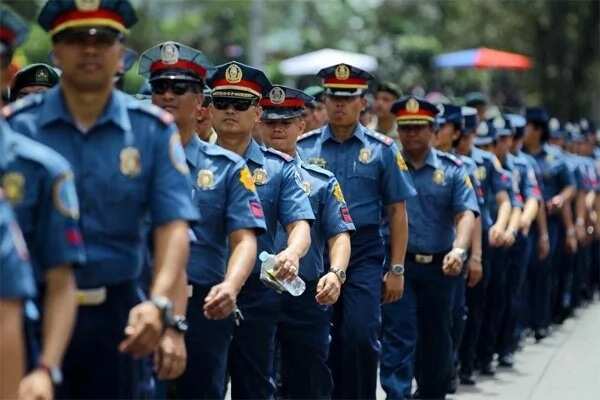 In the 40-minute speech, he said that if the PNP does its duty, he would be willing to die for them. He added: "Do your duty and if in the process you kill 1,000 persons because you were doing your duty, I will protect you."
READ: "Bato", now officially PNP head
In attendance to the ceremony were active and retired police officials, military officials, and members of the diplomatic corps.
The ceremony was conducted for the newly appointed PNP chief Director General Ronald dela Rosa's assumption of command.
Duterte also said in his speech that police officials should steer away from "drug lords and budding criminals" who might try to befriend them. He warned them that he will monitor the track records of police officials in his next 6 years as president.
READ ALSO: LOOK: Alleged drug users surrender before Duterte took oath
"Let me tell you now, I will not run this country with a corrupt police," said Duterte.
In earlier reports, Duterte had already hinted to know police officials who are involved in illegal drug-related activities. He reiterated it in the ceremony, and though he didn't name them, he gave a warning: "You know that I know, so you better resign. You no longer have a future with the police."
The President also talked about giving proper compensation to the police officials who will perform well.
READ ALSO: 3k drug users surrender, incoming DILG chief confirms
Meanwhile, the tough-talking mayor also slammed the criticisms thrown against his supposed approval of extrajudicial killings. He talked about the justification of a "shoot to kill" order, citing that it's sometimes necessary when the life of a police is in jeopardy. -CD, Kami Media
Source: KAMI.com.gh