80-year-old man washes his hair for the first time in 26 years
- Chinese man washed his hair and beard after 26 years
- It took 12 people, 3 packs of washing powder, and 5 hours to clean the hair 
- The man's local fans wanted to put him in Guinness Book of Records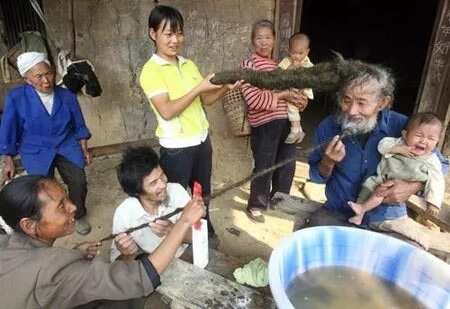 Some people spend so much time just to fix and style their hair every single day. From washing to drying, and styling, girls and guys seem to care so much on how they look from head to toe. It seems like how you look physically reflects how and what you are as a person, and sometimes, it really does. People tend to invest so much on hair products for their hair care routine, and those who are really aiming for that perfect crowning glory even consider the food they eat. That's just some of the reasons why people are really conscious on how their hair looks and why they always make sure that their mane is clean, soft, shiny, and should especially smell good.
But wait until you meet this man who washed his hair for the first time in 26 years. This 80-year-old Chinese man who lives in a remote mountain village of Red Flag, near Chongqing city has finally decided to have his makeover as he asked a total of 12 people including his son, daughter-in-law, grandchildren and neighbors to help him wash his 6ft long hair and 5ft beard who had to use three packs of washing powder when shampoo had almost no effect, and took them five hours to finish cleaning the hair.
Imagine having a hair and a beard this long, with dirt and gel and everything you can think of that would most probably get stuck through its long and thick strands. What's more unimaginable is not cutting it end even washing it for quite a long time! Walking along the streets as you flip your hair would probably catch attention and would stop traffic literally as you get to spend time gathering your hair all together.
READ ALSO: WATCH: Doll possessed by spirit; what it can do will creep you out
After the man's hair has been cleaned, his local fans want him to be included in the Guinness Book of Records. - AA, Kami Media
READ: WATCH: Woman provokes snake; its reaction will make you scream
Source: KAMI.com.gh