Bewitched doll only walks with no one else but its owner
- A viral video shows a doll in pigtails only walking beside her owner, and refuses to do so with other people
- Rosalba Valdez Alvarado, its owner, has stated that it does not contain batteries and other mechanisms to make it walk
- Her neighbors have claimed to see the doll move its wrist on its own when they look through Alvarado's open windows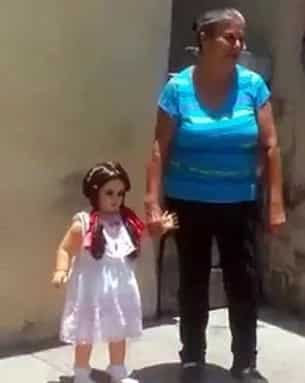 A doll in Mexico was caught on camera walking beside her owner, named as Rosalba Valdez Alvarado. However, the plot thickens when other people in the area attempted to walk the doll – in result for it to stand still.
Facebook user Guillermo Rios posted the video on June 10, which has since then gone viral – earning an astounding amount of 5.5 million of views in just a span of 3 days. It shows that an elderly woman – the doll's owner – was holding her doll's hand and walking with her at their home's courtyard in Saltillo, Mexico.
To clear problems with skeptics, Alvarado clarified that the doll walks even without batteries. She willingly shows anyone the proof to her statement upon request – and true to her word, the doll indeed does not run on batteries! She also claimed that the doll does not have any other mechanisms that would help it walk.
RELATED: WATCH: Man finds monster lizard at home; what he did next is unbelievable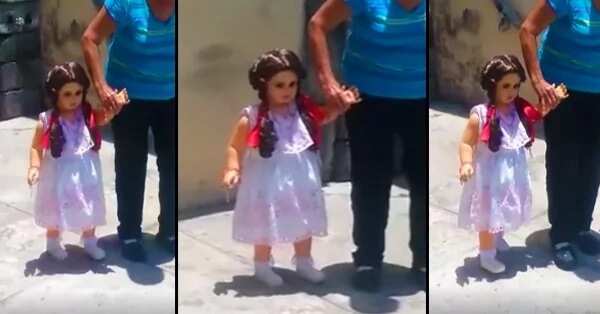 The woman offered for other people to try and walk hand in hand with her 42-year old doll. Happily accepting the woman's encouragement, a few made an effort to do so but failed when after taking a few steps, the doll would just not budge – showing that it only moves when Alvarado is the one holding her hand.
Alvarado's neighbors had claimed that they saw the doll moving its wrist to her own accord, according to other reports. They said to have witnessed it upon looking inside Alvarado's house through her open windows.
An onlooker asked Alvarado about the doll and the latter claimed that it has become quite popular, seeing as how a lot of people had been looking for her just to see the doll for themselves.
READ ALSO: WATCH: Top 6 scariest YouTube videos that will give you nightmares
Indeed, the woman and her doll had gained fame as they have been both featured on local TV programs regarding paranormal activities in Mexico.
Netizens were divided in coming up with ideas on what makes the doll walk – others asserted that it was merely a trick or an illusion, while the other half claims that it could possibly be possessed by a spirit.
Rios, the man behind the video, came to Alvarado and her doll's rescue. He informed viewers that it would take seeing it for themselves to acknowledge that it is not a trick. - HB, Kami Media
RELATED: WATCH: Woman provokes snake; its reaction will make you scream
Source: KAMI.com.gh