Duterte holds cabinet meeting to deal with micro level
- President Rodrigo Roa Duterte wants to deal first with problems in micro level
- Duterte wants no special treatment just because he is president
- Davao's 911 will be a nationwide disaster response team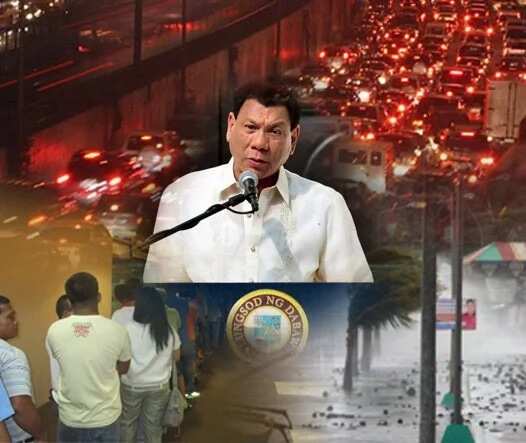 Unlike other presidents who want to tackle problems in the macro level, President Rodrigo Roa Duterte wants to deal with everyday problems experienced by ordinary Filipinos.
President Duterte held his first cabinet meeting after his inauguration yesterday. The new chief of staff wasted no time and went to work immediately after he took his oath.
Below are the top five problems that President Duterte wants to resolve immediately.
READ ALSO: LOOK: Roxas slams Duterte's federalism
Red tape
Duterte reiterated that he does not want to see people queuing and tasked all government department and agencies to remove red tape by abolishing some of the unnecessary processes and requirements. For Duterte, some processes take hours or days and waste time of Filipinos. Duterte wants to change this practice.
"I don't want to see Filipinos queueing, lining up," he said. "They should be given a shopping list if they're ignorant or don't know anything. Then after completion, they will go there for their application or clearance."
The Land Transportation Office is one of the agencies that have a lot of backlogs like in releasing driver's licenses and license plates to car owners. In an interview, LTO chief Edgar Galvante said that in order to quicken the process, the agency must hire new personnel to add manpower. Moreover, the agency said that it will review online transactions to speed up the process.
READ ALSO: Duterte's 'change' threatens Philippine democracy
Online gambling
President Duterte ordered Philippine Amusement and Gaming Corp. (Pagcor) to rescind the permits that the previous administration had awarded to companies operating online gambling. Duterte thinks that gambling is one of the causes of poverty.
"Online gambling must stop… I don't want the proliferation of gambling in the country," he said.
No VIP treatment
In the past, presidents are given special treatment when it comes to roads and flights. This is because presidents have a schedule to follow and many things to take care of. However, President Duterte does not want to be given VIP treatment and he wants to be treated like a common citizen as he does not want to inconvenience other people who went ahead of him. He asked DOTC secretary Art Tugade not to give him special treatment and he will wait if he has to.
This is evident in his oath taking yesterday. His staff asked guests to head to PICC where they will board a bus that will take them in Malacañang Palace so their cars will not add to the traffic in Mendiola-Legarda area.
READ ALSO: 'The Duterte Manifesto' compiles death threats made by new president
Decongesting traffic
Another priority in his agenda is decongesting traffic in Metro Manila. During his campaign, Duterte expressed his surprise with how bad Manila traffic is. He is that the root of the problem is the city is congested and he plans to ease the traffic by decentralizing the businesses and government services, so people no longer have to go to Manila for jobs or permits.
Disaster response
In the first official cabinet meeting, Duterte shared his experience with responding to disaster with a heart-wrenching story when Yolanda happened in Tacloban, Leyte. He shared that he wants Davao's 911 to be a nationwide disaster response team that will respond to emergencies. Duterte boasted that he has an ambulance with installed incubator.
Source: KAMI.com.gh