Ronald "Bato" Dela Rosa, named as new PNP Chief
- Former Davao Police chief Ronald "Bato" Dela Rosa was officially named as the head of the Philippine National Police
- Dela Rosa will replace Director General Ricardo Marquez
- Duterte is scheduled to proceed to the Armed Forces of the Philippines (AFP) to name Lieutenant General Ricardo Visaya as the new military chief and meet AFP's top officials
Director General Ronald "Bato" Dela Rosa has been installed as the 21st chief of the Philippine National Police (PNP) in a ceremony at the PNP headquarters Friday morning.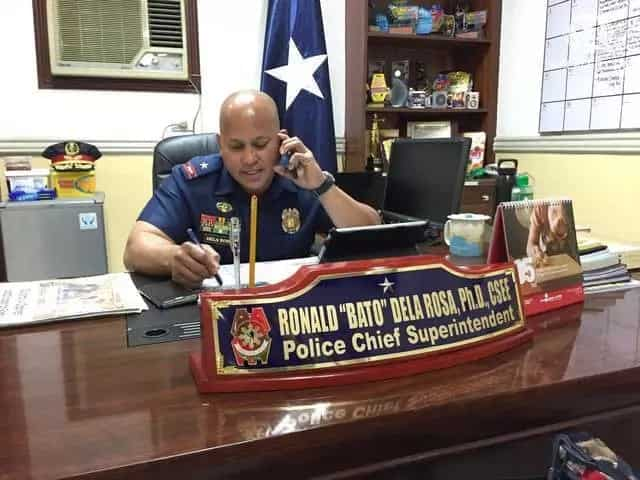 Dela Rosa, a former chief of Davao City Police, has been personally named by the President Rodrigo Duterte, who took his oath of office yesterday, to head of the 160,000-police force. This is in line with Duterte's promise to curb criminality and the rampant use of illegal drugs in the country as soon as possible.
In the past, Dela Rosa also held positions in the command group of the PNP Intelligence Group. Spotted in the ceremony was Former President Fidel Ramos along with new Defense chief Delfin Lorenzana, new Interior Secretary Mike Sueño and Senator Manny Pacquiao, who was installed as the country's newest set of senators after ranking 7 during the senatorial race receiving more than 16 million votes.
READ: Drug lords, VIP inmates deny Duterte kill plot
The new police chief is set to replace former Director General Ricardo Marquez who retired from police service Tuesday. Marquez is Dela Rosa's upperclassman by four years at the Philippine Military Academy.
Dela Rosa, a member of PMA "Sinagtala" Class of 1986, was the Executive Officer of the Directorate for Human Resource and Doctrine Development prior to his new assignment under the Duterte administration. Duterte is expected to promote Dela Rosa to Director General, the highest rank a PNP officer could obtain.
After the ceremony, the president will hold a conference with the PNP's top officials. Duterte is scheduled to proceed to the Armed Forces of the Philippines (AFP) to name Lieutenant General Ricardo Visaya as the new military chief and meet AFP's top officials.
READ: New PNP head against vigilantism
Duterte has been given full military honors by the AFP yesterday as he steped in as the new Commander-in-Chief of the military replacing former President Benigno Aquino III who was reported to have returned to his residence in Times St. Quezon City. -MR, Kami Media
Source: KAMI.com.gh