- During the inauguration of President Rodrigo Duterte, his children, along with his former wife, unexpectedly went outside the Palace in order to meet and greet the President's loyal supporters
- The members of the security team said that the First Family broke security protocol by going outside the compound without letting them know first
- The First Family explained that they wanted to personally show gratitude to the people who supported and voted for Duterte
Members of the Philippines' new First Family broke a security protocol set by Malacañang so that they could greet the supporters of new President Rodrigo Duterte outside the Palace on Thursday.
Duterte was accompanied by his four children during the historic inauguration. Duterte's former wife Elizabeth Zimmerman and current partner Cielito "Honeylet" Avanceña were also present for the ceremony.
Many of the teen supporters of Duterte cheered and shrieked as Sebastian "Baste" Duterte stepped out of the Palace with his siblings – Davao City Mayor Sara Duterte and Davao City Vice Mayor Paolo Duterte at around 1 p.m.
READ: Who's that guy making faces at Duterte's inauguration?
The president's children greeted and shook hands with their father's supporters, some of whom came all the way from Davao to witness Duterte's inauguration.
Moments later, Zimmerman joined her three kids to express their gratitude to the supporters.
Many fans even took selfies with the members of the First Family. One young woman told Baste that he looked handsome while a hospital worker from Las Piñas City, Eladia Racca, was surprised about how beautiful and sexy Sara Duterte actually is in person.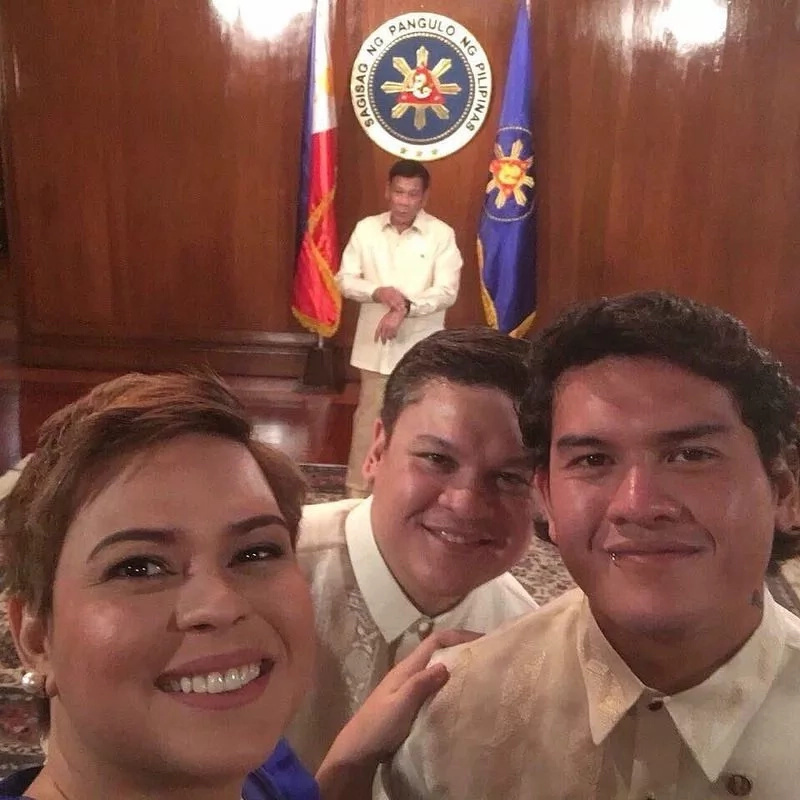 READ ALSO: Malacañang welcomes a stylish Inday Sara
According to members of the Presidential Security Group (PSG) stationed at the Gate 5 of Malacañang, the First Family was actually breaking security protocol by coming out of the Palace gate. One member commented that they were not informed about the First Family's plan to go outside and talk with the people.
During a brief interview, Zimmerman explained that they just wanted to personally thank Duterte's loyal supporters for helping him win the presidential election. The president's former wife is also hoping that the new administration can provide a better future for the Philippines. -DN, Kami Media
READ: VP Robredo to Filipinos: My office is open for all of you
Source: Kami.com.ph