'The Duterte Manifesto' makes you know Duterte more
- "The Duterte Manifesto" is a book that will make you love Duterte (even more)
- Book mentions "patayin" too many times.
- The book is a publicity stunt to gain sympathy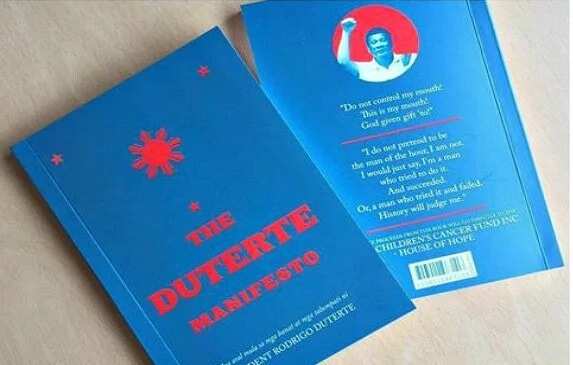 You will laugh, you will cry, and you will love the new President Rodrigo Duterte once you read "The Duterte Manifesto".
Days before the inauguration of Rodrigo Roa Duterte, ABS-CBN Publishing released a book compiling the quotes in Duterte's previous statements starting on his campaign until his election. Some of the quotes are usually threats from the president. I came across the word "patayin (kill)" so many times while guffawing to his gutter language or "salitang kanto".
READ ALSO: 5 reasons why Pres. Duterte is the most humble president ever
A manifesto is a published material that states that motives and intentions of the issuer. While it contains the plans and visions of the new president, the title pays homage to the infamous "The Communist Manifesto". People know about Duterte's ties with the Left.
Aside from the quotes, the book also features stories from some of the loyal supporters of the President, including that of Senyora Santibañez, an iconic character in "Marimar" and a popular Twitter handle. People narrated their encounter with Duterte, when he was still Mayor.
Readers can also get various advices from Duterte on love, life, and dreams; like, "Pag may crush ka, wag mong ipagkalat, dadami kumpitensya mo. (If you have a crush, don't tell anyone, you will have competitions.)" It also has a test if you will survive Duterte's administration without getting killed.
READ ALSO: READ: Full text of Duterte's momentous inaugural speech
Meanwhile, some people claims that "The Duterte Manifesto" is a publicity stunt to gain the sympathy of people. There is still a portion of the population is not convinced with Duterte's
Presidential son Sebastian "Baste" Duterte endorsed the book in his social media account informing the public of the availability of the book for people to get one. It is indeed a short book that will induce change coming from oneself. "The Duterte Manifesto" is available in National Bookstore for 145Php.
Source: KAMI.com.gh