Pope Francis musical comes back on stage
- "I Heart Pope Francis: The Musical" will go back on stage starting July 2
- It was first staged during Pope Francis's visit to the Philippines last year
- The Pope Francis musical is the brainchild of director-composer Andy Alviz and writer-lyricist Randy del Rosario
When Pope Francis visited the Philippines in January 2015, record crowds flocked to welcome him in the streets and in every public appearances he had.
His very presence evoked awe and inspiration for thousands of Filipino believers, both Catholic and non-sectarian.
It is this innate ability of the Pope to draw people of all beliefs to his warm presence that a group of theater artists hopes to emulate through a stage musical entitled "I Heart Pope Francis: The Musical".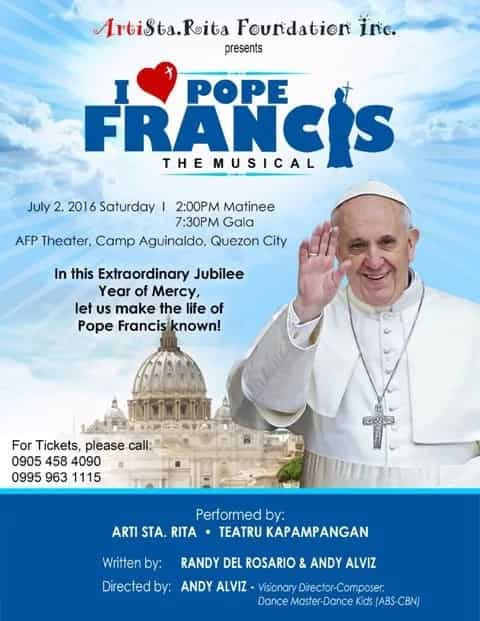 The musical reminisces the life of Pope Francis through the eyes of a fictional Filipino youth group.
It is produced by ArtiSta.Rita and Teatru Kapampangan, acclaimed local theater groups from Pampanga. The musical is penned by writer-lyricist Randy del Rosario and director-composer Andy Alviz.
READ ALSO: Kissed by the Pope - a miraculous recovery of a sick infant
The play begins with Pope Benedict XVI's resignation and explores how Jorge Mario Bergoglio discovered his calling to serve God before becoming the beloved pope.
It was first staged during Pope Francis's visit here last year. This time, the artists are restaging the production for the benefit of a foundation for women.
The show will start on July 2, Saturday, at the AFP Theater.
READ ALSO: You give me and the Church so much strength - Pope Francis to retired Pope Benedict XVI
Source: KAMI.com.gh