5 reasons why Pres. Duterte is the most humble president ever. Read full!
- President Rodrigo Duterte is the most humble president as he favors simplicity over extravagance
- Duterte wants inauguration to be non-disruptive as possible
- Duterte shows love for country and Filipinos everytime he has the chance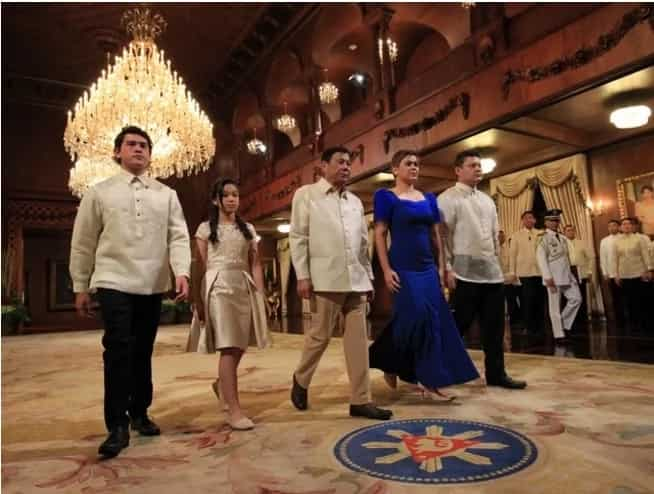 Filipinos voted for a president from the grassroots level. President Rodrigo Duterte abhors extravagance and mindless wasting of public funds.
Below are the five reasons why President Duterte is the most humble president that Filipinos have elected.
READ ALSO: READ: Full text of Duterte's momentous inaugural speech
No media fanfare
The inauguration of the 16th president of the Republic of the Philippines is simple, yet meaningful. The media did not make a fuss during his inaugural as they were prevented to cover inside the Malacañang Palace. Even during his term as Davao City mayor, he does not want media to cover his deeds. People learn most information about Duterte via social media.
Unlike the inaugurations of previous presidents, President Duterte held his inaugural in Malacañang and not in Quirino Grandstand. His inaugural day is also a regular working day, and not a holiday. According to Duterte, he does not want to inconvenience anyone.
Filipino food and Davao staples

One of the major highlights of Duterte's inauguration is the menu. Duterte personally requested for a simple food and beverages at the luncheon. The menu includes monggo guisado, lumpia, pandesal with kesong puti and beef longganisa. Desserts include Davao durian tartlets and Duterte's favorite maruya.
READ ALSO: VP Leni Robredo appeals to Duterte in her speech?
Bus as service for guests
Earlier this morning, guests arrived not in Malacañang, but in PICC. Then, they will board a bus that will take them to the Palace. The new administration strategized that this is the best way to have minimal disruption to Manila traffic. Moreover, there is no enough parking space for over 600 guests that attended Duterte's inauguration.
Mindanao-based designers
Unlike former president Benigno Aquino who turns to Paul Cabral for his suits and barongs, Duterte dressed simply in his oath taking. He sought help from Mindanao-based fashion designer Boni Adaza. The ecru-colored barong is made from piña jusi or synthetic fiber with patterns based from the Manobo tribe.
Davao-based fashion house Chardin also designed Honeylet Avanceña and Kitty's outfits.
READ ALSO: WATCH: Duterte, Robredo inauguration live stream
Members of Duterte family also wore outfits made by local designers. Duterte's daughter, Davao City Mayor Inday Sara Duterte, and his ex-wife, Elizabeth Zimmerman, wore Filipiniana-inspired gowns designed by Davao-based designer Silverio Anglacer.
Sebastian "Baste" Duterte wore a Mindanao silk barong designed and made by the Davao Fashion and Design Council (DFDC). Paolo Duterte, meanwhile, wore one that was designed by Erwin Lee Tan.
Love for country and Filipinos
Duterte is the first president that constantly affirms his love and loyalty to the country and its people. He championed that his motivation to run for presidency is just his love for the Filipinos and he felt the strong urge to help them.
Disclaimer: The views and opinions expressed in this article are solely those of the original author. These views and opinions do not necessarily represent those of Kami.com.ph, its editors, or other contributors.
Source: KAMI.com.gh