- Julie Finkel projected a video of her reciting the lyrics of 'My Wish' by Rascal Flatts in ASL just as her dance with her father began
- The response she received was more than she hoped for as everyone in the reception, including her father, was in tears
- She felt urged to do more ASL music videos in the future
Weddings are known to be memorable occasions. Some couples touch the hearts of many because of their endearing vows, others through testimonies of their love shared by friends and family. In this particular wedding, however, it was made extra special as a daughter of two deaf parents signed the lyrics of her wedding song for them to understand.
(Video from Inside Edition)
23-year old Julie Finkel deemed it important that nobody would feel left out during her wedding – especially her parents. All throughout the ceremony, an interpreter was present. But it was when Julie took matters into her own hands that made everything more exceptional.
The bride from Ohio and her unsuspecting father started to dance to Rascal Flatts' 'My Wish,' when a video of her was projected into the screen – reciting the lyrics of the song in American Sign Language.
READ: WATCH: Working dad goes blind; what his daughter does for him will amaze you!
Julie fondly recalled how her dad, Scott, watched in awe and shock as his daughter made sure to make him and his wife feel special on her wedding day. Scott could no longer keep his emotions in check by the end of the song as he burst into tears.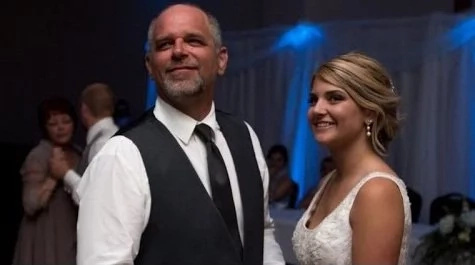 As the entire reception was in tears, Julie was surprised with the response she received. She confessed to having the idea already buried in her mind as early as when she got engaged. She dived into the details of her preparations – the video taking an hour to be filmed, with just a well-lit room, a sheet hung up as her background, and her laptop as her props.
Her mother, Christine and father were born deaf after their mothers contracted Rubella Measles in an outbreak when they were pregnant back in 1964.
READ ALSO: LOOK: What this dad did for his son with cancer will surely touch your heart!
Julie knew ASL since she was a child, even considering it as her first language – saying that she even dreams in sign language sometimes.
The blushing bride, now a wife to her 26-year old husband Rob, admitted to being nervous before the dance, having no idea on how her father would react. But relief soon flooded her when she saw her dad looking genuinely happy.
The entire experience encouraged Julie to produce more ASL music videos, adding that she would love this kind of job. -HB, Kami Media
READ MORE: How Kendra made dad Doug Kramer cry on her birthday
Source: Kami.com.ph