Progressive groups march to Mendiola to call for action
- Groups march to Mendiola Peace Arch in line with President Rodrigo Duterte's inauguration
- Heavy traffic started to build up along the way of the march
- Groups such as MMDM, Gabriela, and other progressive groups participated in the march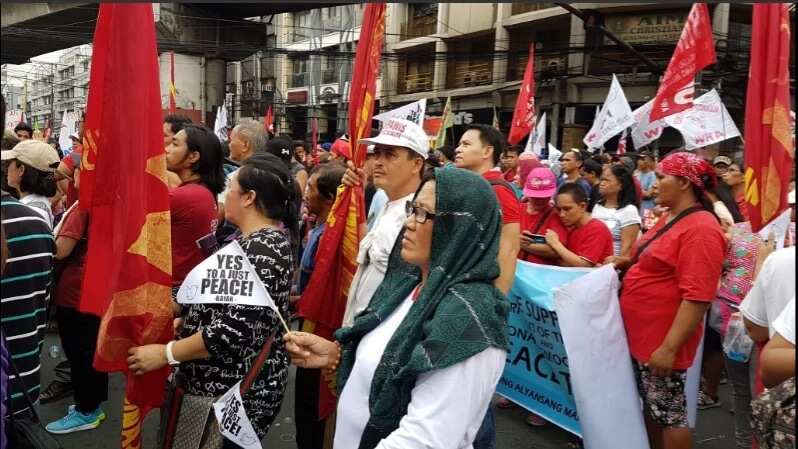 Groups from various sectors and supporters gathered together as they march towards Mendiola Peace Arch to call for action to various social reforms including the release of all political detainees, the resumption of peace talks, and the end to labor contractualization in line with President Rodrigo Duterte's inauguration.
Groups started mobilizing from Welcome Rotonda and parts of Espanya and Morayta has been occupied by the rallyist. Heavy traffic is expected along the way of the march.  
General Secretary of the Metro Manila Duterte Movement Manny Dadulla said that 2000 to 3000 of the 17000 members of the group who is responsible for campaigning for Duterte in Metro Manila is expected to participate in the Mendiola march. Dadulla's group, he said, would attempt to remove the barbed wire at Mendiola, the wire being the symbol of division in the country. But if  the Presidential Security Group (PSG) would not allow it, they will not push through with it, according to him.
READ ALSO: READ: Speech that made VP Robredo's voice crack up
Other participants include tribal leaders who call to pull out military troops in their ancestral lands, peasant groups who call for genuine agrarian reform, women's group Gabriela who call for end of discrimination against women, government employees who demand end of contractualization and enactment of national minimum wage, teachers who support the resumption of peace talks, and health workers who call to stop the abolition of Fabella Hospital.
Vendors started setting up and selling Duterte souvenirs at Mendiola including keychains with the words "Tapang at Malasakit" engraved in them, and Duterte plates. One vendor said that he doesn't mind selling Duterte souvenirs because he is a supporter of the president.
Meanwhile, a crowd together with Cabinet secretary Dinky Soliman, Jun Abaya, and Ging Deles also gather to Time Street Quezon City to welcome Noynoy Aquino after the departure honor was given to him at the Malacanang Palace grounds.  
READ ALSO: Guess who will be attending Duterte's inauguration
Source: KAMI.com.gh