Get a hot taste of the fiery labuyo chocolate beer
- The Brewery adds Chokolate Boom to their beer roster
- The chocolate beer has hints of labuyo, a local chili
- The unique beer was crafted by Oliver Ellrotte
- The Brewery has been producing a wide array of beers using local ingredients since June 2015
It's about time you get to sample the most unique beer in the metro!
Thanks to The Brewery, Pinoys can now sip the goodness of chocolate with that hot hint of the well-loved labuyo.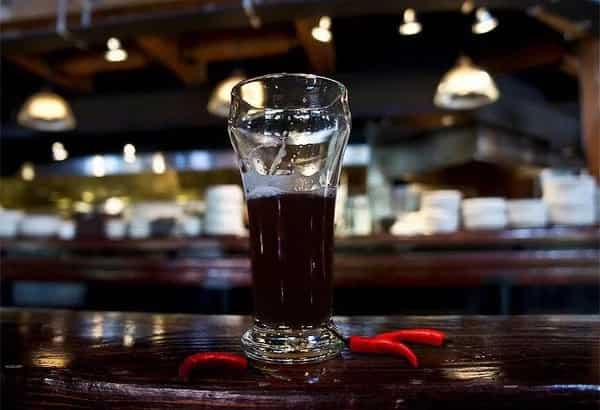 Filipinos love their chili, especially the local bird's eye pepper or siling labuyo. This is what Oliver Ellrotte, the pub's resident beer maestro, banked on when he crafted the Chokolate Boom to celebrate The Brewery's first year anniversary.
READ ALSO: Chocolate Chip Cookie Beer is real! We kid you not!
Those brave enough to try this one-of-a-kind beer will experience a very smooth and subtle smoky taste coupled with a whisper of spicy finish, courtesy of the local labuyo chilis.
The beer is brewed with the finest chocolate malt that gives it the color and taste of chocolate along with a bottom fermented craft lager beer.
Ellrotte, German-born beer master, had extensive experience mastering the art and science of brewing beer in Germany, Thailand, Cambodia, India, China and Eichof, Switzerland's biggest brewery.
He's very proud that their bar does not copy or repeat brews. Their aim, he said, is to produce new flavors that uses local ingredients.
"I was really excited to use the siling labuyo to add a new flavor to the menu. It was my first time to work with that particular spice so it was hard. I had to continuously add labuyo to get that right flavor," Oliver said during a media dinner hosted by The Brewery.
READ ALSO: WATCH: Edible beer rings to save marine life
The Brewery has been the biggest on-site microbrewery in the country since June of last year. They have produced different beers that has that unique Filipino flavor including honey ale, ginger, Marzen (traditional Oktoberfest beer), Smokey Oakey, Santa's Little Helper (Christmas Bock), Sampaloka, Jasmine Citra Lager,  Brewmaster's  Gold, Uptown Ale and Fighting Irish.
Source: KAMI.com.gh