-A shocking video featured a group of women hitting, kicking, and attempting to tear off the remaining clothes of an alleged mistress
-Someone tried to halt the fight but was ignored as the violence continued
-Comments about the video on Weibo were seeking for the same actions towards the cheating husband
This is why you should never mess with a married man – or in this case, the man's wife. In a footage caught by one of the bystanders in the scene, a Chinese woman was seen beating the alleged mistress of her husband in the middle of the street in Anhui province.
A group of women versus one, it is only natural that the mistress would end up almost naked as each woman slapped, kicked, and pulled on the latter's hair. In the midst of it all, they were shouting at the forlorn figure in front of them, claiming that the she had been seeing one of their husbands.
The wife, who was said to be wearing a beige top, was shouting at her repeatedly and continued to slap her. One of the women grabbed the mistress by the hair and slammed her into the ground, hitting it with full force. The mistress' top was only left covering her front, thanks to her hold, or else it would have been left forgotten on the ground already. However, another deemed it not yet enough as she tries to further undress the woman, pulling at her shorts but failing to succeed. This prompted for the mistress to cry harder.
READ: In love with a sex doll: the romantic tale of a married man and his silicone mistress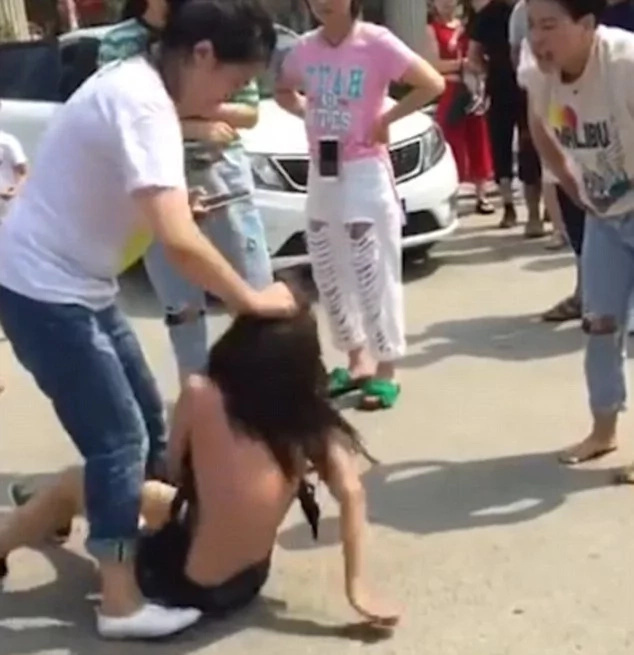 It was then that an older woman, wearing a floral top, tried to put an end to the public humiliation the mistress has been suffering from. Her efforts were in vain as the group of women continued to harass the woman.
By now, there was a crowd surrounding the scene. There was even continuous honking in the background, proving that the flow of vehicles in the area had been disrupted by the fight.
The women were not yet contented as they begin to record and snap photos of the alleged mistress – one even pushing the woman back in order to get a better view of her face on her mobile phone.
READ: Top five stories of time travel which will leave you in disbelief; here's why
There were discussions about the video on China's own version of Twitter, Weibo. Some claimed of how the older women's actions were wrong, others were questioning on why it was only the mistress receiving the fury of the ladies, looking for consequences on the husband's end as well. –MB, Kami Media
https://youtu.be/FXWSa5O-8G8
READ: Oops! Photos of cheating man with mistress discovered by wife. Here's what happened next