Orangutan chained for four years finally sees second chance at life
- Nine-year-old Bujing finally gets to live life as an orangutan after he was rescued
- Bujing spent the last four years chained in a house in a village
- He is now getting better at the International Animal Rescue Center
An orangutan that spent four years of its life chained is now finally seeing a new dawn as he is given another chance to be wild and free.
Bujing, the orangutan, is finally rescued after Kylie Bullo spearheaded the Orangutan Project Human-Orangutan Conflict Response Team. The team traversed at least eight hours to rescue the poor baby.
"When the Rescue Team arrived we found Bujing chained to the side of the house. He was very thin and had no hair due to malnutrition. The 'owners' of Bujing said that when he was young they would regularly bathe him and give him milk," Bullo said.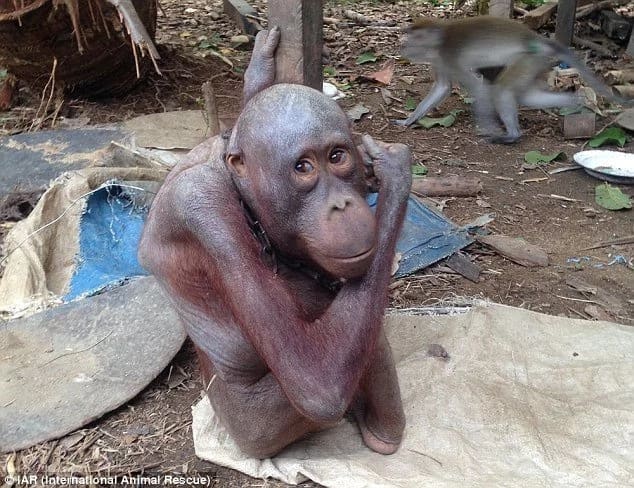 READ: Street dog tries to free from a trap desperately looking for help
The orangutan is now nine years old; however, the last four years of his young life has been spent chained to the side of a village house. Aside from being chained, Bujing was also severely emaciated.
Now that he has been rescued by the Orangutan Project, Bujing has become happier and is slowly becoming better. He now lives at the International Animal Rescue Center in West Kalimantan.
"However, as Bujing grew older they kept him chained up to stop him entering the neighbour's property where he would eat their food. He also had two deep wounds on his back," Bullo said.
READ: WATCH: Lion encounters a white tiger, what they did next will melt your heart
Bullo also said that the turnover was smooth as the owners surrendered Bujing the team without hesitations and complications. After he was surrendered, he was taken immediately back to the rescue center in West Kalimantan that is funded by The Orangutan Project.
"One can only imagine the sadness and despair that Bujing felt every day. But you could see Bujing's eyes still had a glimmer of hope for a better life ahead," Bullo said.
Now, Bujing can leave behind the life he once lived that was full of misery and despair. Now, he has bigger chances of living life the way an orangutan should.
Source: KAMI.com.gh