US Army claims they send us billions of dollars for nothing
- A self-claimed US Army said that the Americans do not need the Filipinos but still continue to send us billions of dollars
- The Facebook user goes by the name Michael Patter
- He got furious after another individual reacted to his comment and called him an idiot
A Facebook user named Michael Patter has posted a series of comments about how President-elect Duterte needs to stop playing the game he is playing.
This comment was first posted in an article about Duterte warning the militant group Abu Sayyaf to set free the remaining hostage.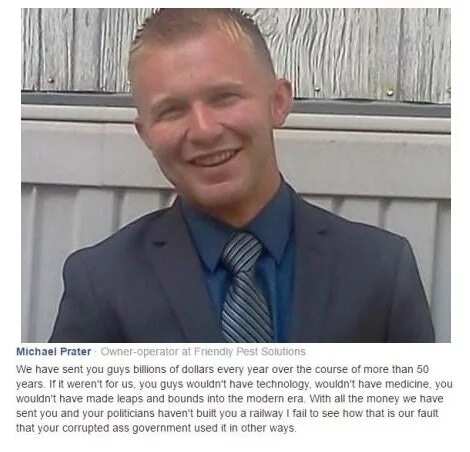 The incoming President recently warned the Islamist Militant group to let go of the hostages or face the consequences. This was said during Duterte's meeting with some of the business tycoons in the country. The President also said that his ultimate goal is to abolish Abu Sayyaf.
"I cannot do it just immediately. There are things that I need which we do not have now. But there will be a time, there will be a reckoning. And when it comes, I will just say 'Surrender unconditionally. Release all prisoners, hostages or we fight," Duterte said.
READ: Duterte promised confrontation with Abu Sayyaf
The article published by PhilNews, however, became a ground for a debate after Michael Patter posted the controversial post. Part of the comment states: "Duterte needs to quit playing this game… Send your troops in kill them all and then maybe us Americans will help you with China who is brokering to take your land."
Rico Catalan Jr., another Facebook user, posted his reaction to the comment. He referred Patter as another idiot. That comment prompted Patter to post long comments, as if ranting about how the Filipinos still receive money from the US Army.
Patter claims that he is a member of an infantry in the US Army and has been sent to serve in Iraq.
The comments just went longer and longer and some other individuals decided to join in and give their two cents of the situation. The heated exchange became hotter as Patter was furious in his stand about the Filipinos.
The full exchange of comments is posted below: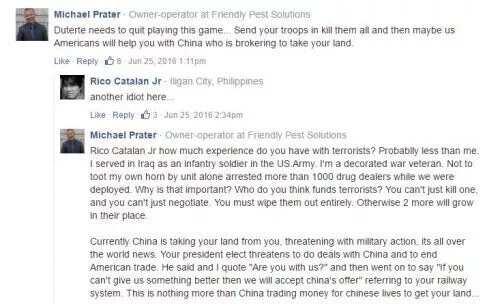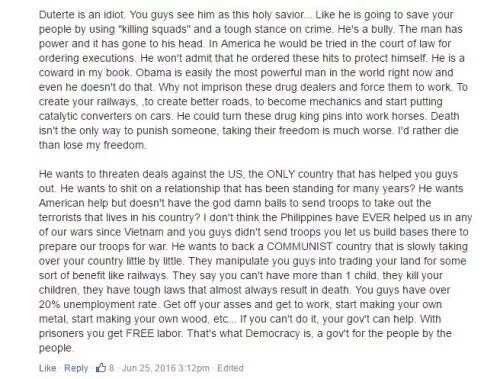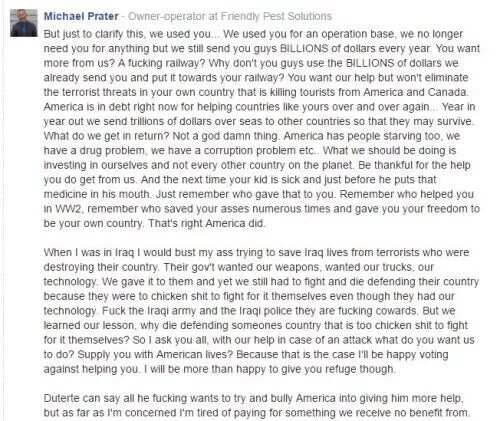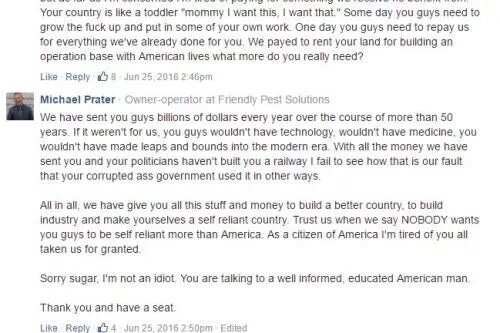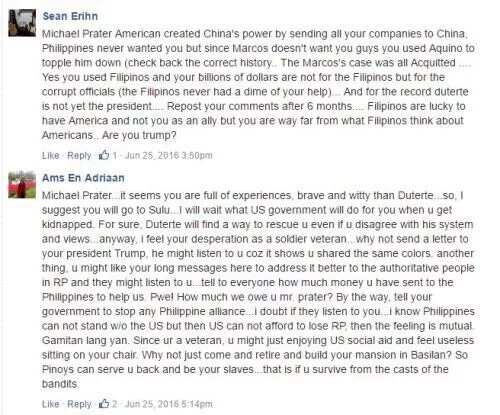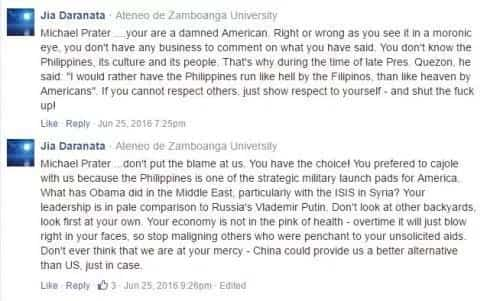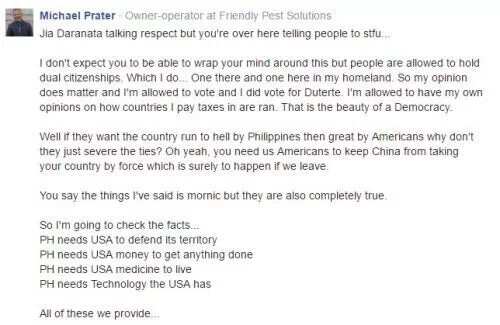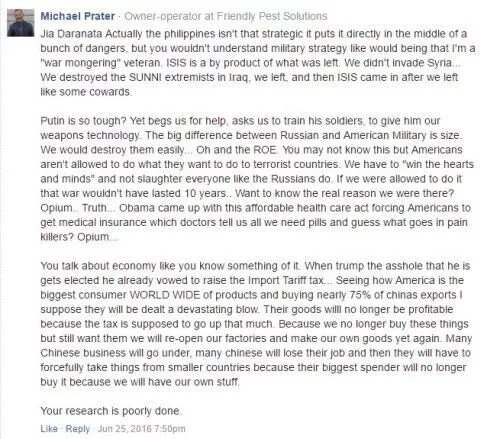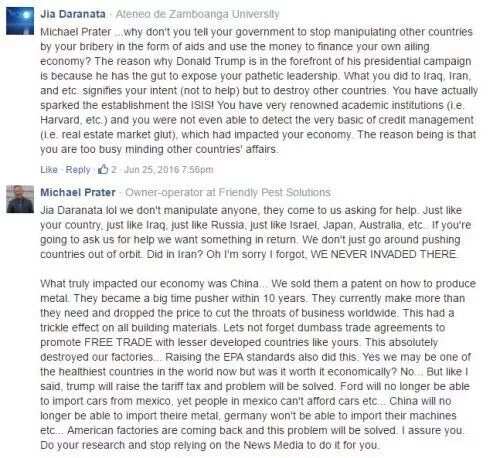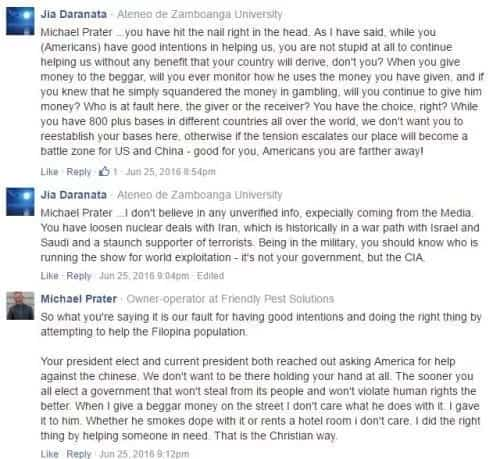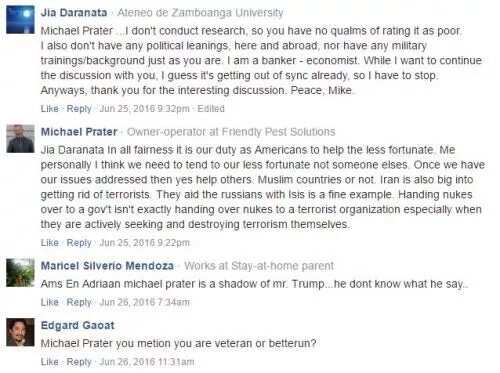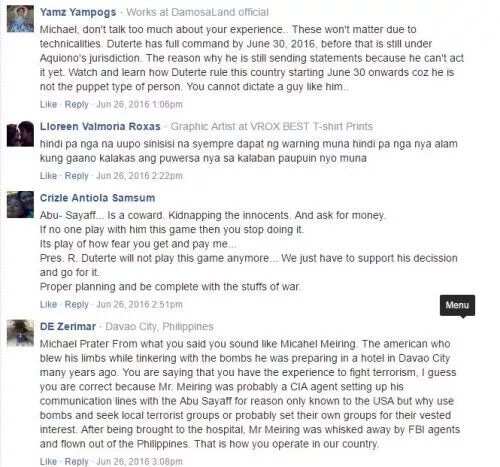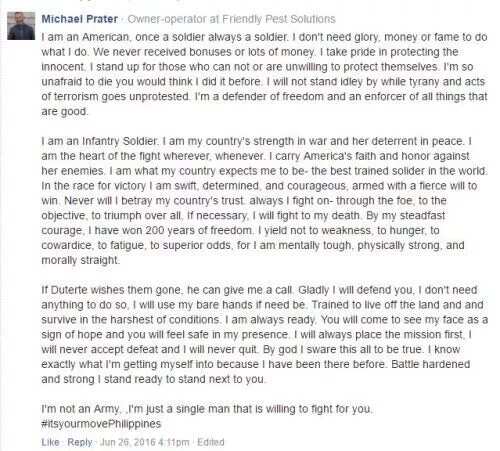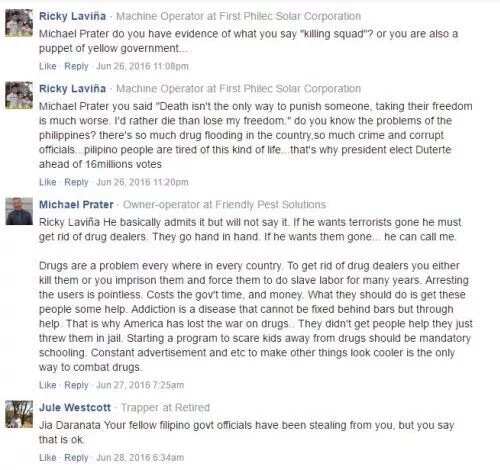 Source: KAMI.com.gh