TRUTH: Canyoneering is not for everyone to try
Canyoneering is considered to be an extreme adventure, and when one thinks of extreme, they imagine it to be filled with so much fun and excitement. While this is true, it also involves a whole lot more, and sometimes, people learn it the hard way.
Canyoneering in Badian is connected to experiencing adrenaline rush at its best and marveling at the breathtaking scenes. It even involves conquering death-defying situations. Badian is a third-class municipality in Southern Cebu and is home to the famous Kawasan Falls. In that particular municipality, one could also find Terra Manna, Badian Island, and numerous white-sand resorts. It is also where the lively Banig Festival is held – a festival where local craftsmen weave and showcase colorful and beautifully made native mats. However, another thing is making the place famous – canyoneering. With this, Badian is fast becoming a haven for extreme sports enthusiasts.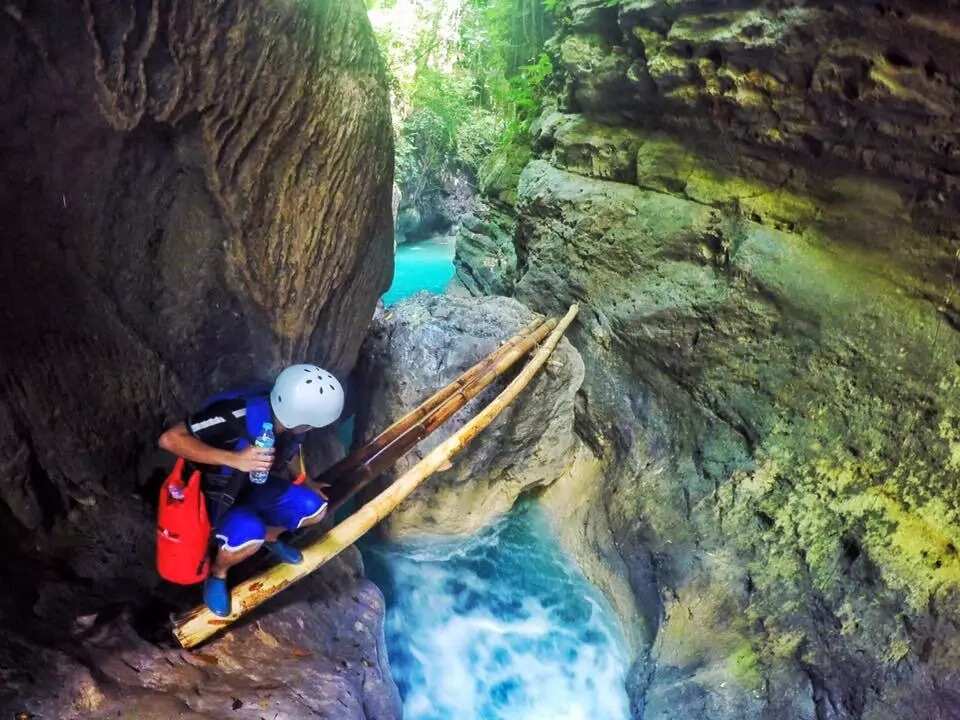 READ: Don't miss this if you're crazy about surfing on whale corpses
For those who thought that canyoneering was nothing more than just jumping rocks and swimming rivers, they are definitely up for one big surprise – or a series of surprises. They would go through deep lush jungles and wet canyons that were carved by the mighty rivers ages ago and seem to hold some of the world's dark secrets and wonders.
The canyoneering in Badian starts at Kawasan Falls, where one could find a small souvenir shop that rents out a PFD (a floating device of some sort) and helmets. Then, you together with your team, your guide and sweeper begin the journey -- the adventure of a lifetime.
Rabsin de la Cruz is an outdoor activity enthusiast, a blogger, traveler and backpacker, a native of Dumaguete City and a resident of Cebu City. "I've been solo traveling/backpacking way back in college. My first solo trip was in Siquijor. There, I accidentally found myself enjoying the 25-ft cliff jump to the beautiful beach. That's when I realized that extreme sport was my thing, and that was what made it so easy for me to say yes to canyoning (canyoneering)."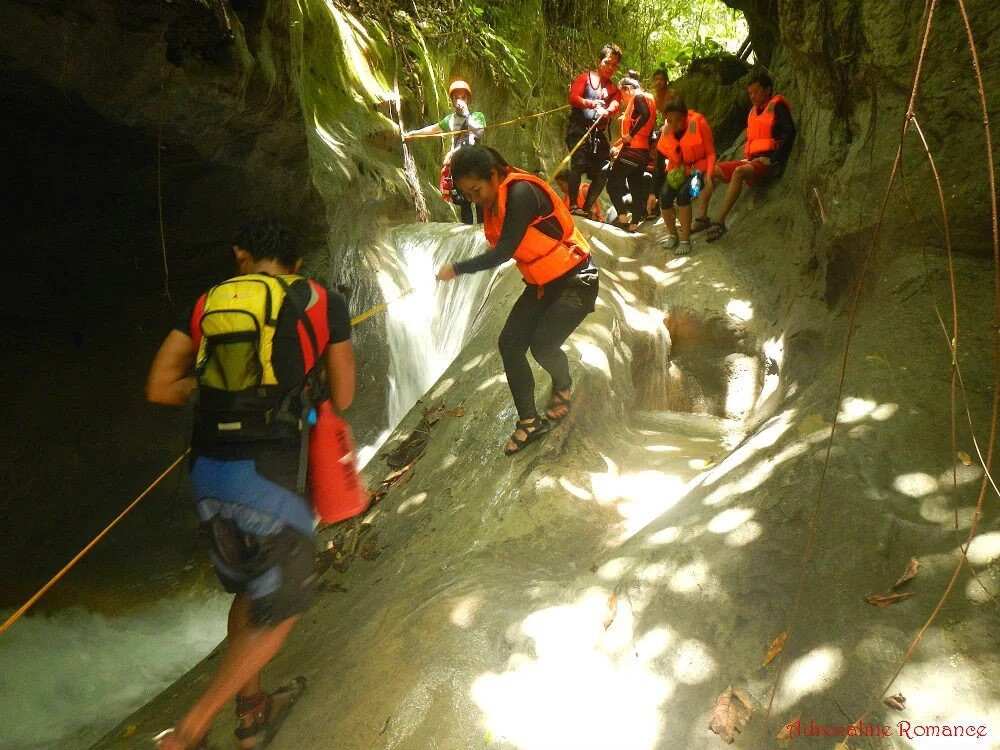 READ: 3 reasons why you should visit Masungi Georeserve
During your canyoneering activity, you would find splashing waterfalls, pristine streams, verdant jungles, and clean trails. You would also be accompanied by birds who seem to encourage you along the way by singing you beautifully composed songs. Most of all, you would encounter challenges and difficulties. For Rabsin, it was the helmet as he claims it is annoying.
Another friend of mine who was able to try the sports said that he encountered a huge difficulty during the activity because of his outfit. Marcus Pajuelas, a registered nurse, revealed that he was honestly not ready enough. "I should have worn leggings instead of wearing shorts so that my lower extremities would be protected from getting wounded. I was ready emotionally but not physically, I haven't prepared my body -- it's so draining; you really need to have enough energy to combine walking, jumping, and climbing!"
Rabsin and Marcus are just two of the people who recommend canyoneering. For Marcus "it would be an experience that you won't forget for the rest of your life. You would conquer some of your fears (fear of heights, for example). It's also a good exercise for your body and it feels good getting in touch with nature."  For Rabsin, on the other hand, the experience was worth every sweat. If the beautiful scenery and pictures can't convince you, I don't know what will.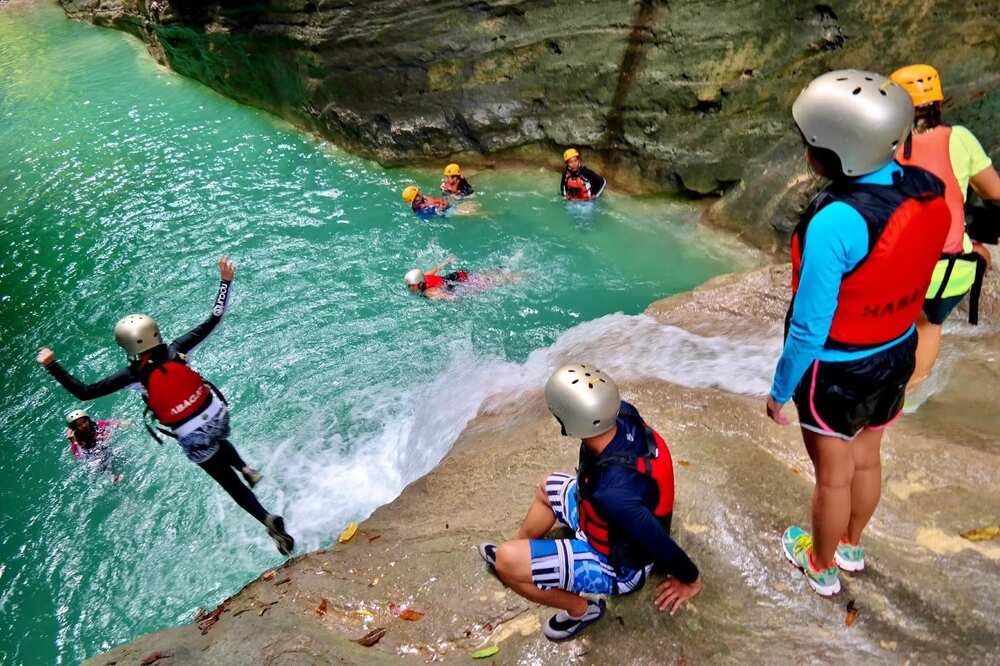 READ: LOOK: Family man sells app for $54 million, what he does with his money will surprise you
On the other hand, bloggers Gian and Shiela suggested that for first timers engaging in any outdoor adventure, going upstream (against the current) is a big no-no. In fact, the couple recommends not to engage in canyoneering at all. For them, this activity is very demanding and technical. It requires a lot from you not only physically but also mentally. You have it give it your all and your best shot. 
Canyoneering is an extreme sports and adventure that requires a lot of preparation – physically, mentally and emotionally. So before you say yes to canyoneering, make sure you are ready to go through days and nights (weeks or months) of preparation.
Source: KAMI.com.gh