Three attackers bomb Istanbul Airport
- Officials announced that 42 people died, and 239 others were injured in an attack on Istanbul's Ataturk international airport
- The three attackers blew themselves up after the attack
- ISIS is suspected to be the group behind the attack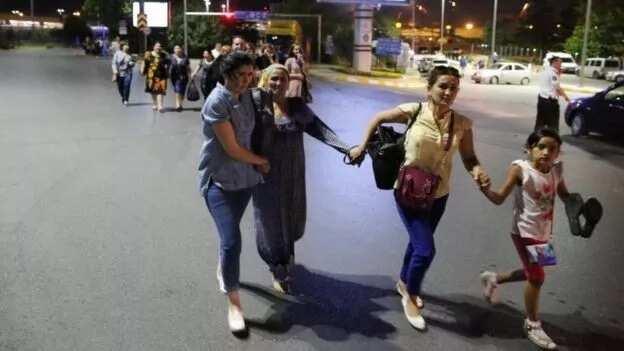 Forty-two people were killed and 239 others were injured, some seriously, foreigners are likely to be among the victims in a gun and bomb attack on Istanbul's Ataturk international airport.
Three attackers, who were also killed, started shooting inside and outside the terminal and blew themselves up after the police started firing them. Prime Minister Binali Yildirim earlier said that The Islamic State was behind the fatal attack, while recent bombings have also been linked to either the terrorist group or Kurdish separatists.
Yildrim mentioned that the attackers had arrived at the airport via taxi while a social media footage shows one of the attackers running in the departure hall as people around him dispersed. The attacker was shot by the police and stayed on the ground for about 20 seconds before he blew himself up.
READ: Orlando shooting: US details shooter's calls to 911
Paul Roos told Reuters that he saw one of the attackers. He was due to fly home to South Africa when he saw the attacker wearing black and his face was unmasked.
"We ducked behind a counter but I stood up and watched him. Two explosions went off shortly after one another. By that time he had stopped shooting.", he said.
"He turned around and started coming towards us. He was holding his gun inside his jacket. He looked around anxiously to see if anyone was going to stop him and then went down the escalator. We heard some more gunfire and then another explosion, and then it was over.", he added.
READ ALSO: ISIS tells SE Asian followers to fight in the Philippines
BBC correspondent said that Ataturk airport has been seen as a vulnerable target for there are X-ray scanners at the entrance to the terminal but security checks for cars are limited.
The US referred to the attack as "heinous" and that America has remained steadfast in supporting Turkey. Turkish President Recep Tayyip Erdogan insisted that the attack should serve as a turning point in the global fight against militant groups.
The victims were rushed to the hospital after the attack while angry relatives due to lack of information gathered to a local hospital to look for their loved ones.
READ ALSO: Orlando shooting scares LGBT community to attend LGBT Pride March in Luneta?
12 Filipinos affected by the attacks
Meanwhile, Philippines' TV and radio host Amy Perez was among those stranded onboard Turkish Airlines Flight 1860. In an Instagram post, she relayed her experience saying that, "May dumating na security but we were advised to stay inside the plane mas safe na daw dito."
They were made to stay inside the plane for two hours. Ms. Perez also said that there were 11 other Filipinos on that flight.
Philippine ambassador to Turkey Rowena Sanchez said "As per our leaders and our checks, all our kababayans are ok."
READ ALSO: Somali al Shabaab launches suicide attack in Mogadishu; here's what happened
Most of the Filipinos in Turkey work in households, while some as nurses, teachers, entertainers, and scholars. The Ambassador is also concerned about the possibility that Filipino tourists may also be affected. However, reports from the hospitals showed no Filipino casualties.
Flights were suspended in and out of the airport after the said attack but is now resumed. Yet, one-third had been cancelled, with many delays.
#PrayforTurkey began trending on Twitter after the attack. - AA, Kami Media
READ ALSO: Unknown group bombs Christian village in Lebanon
Source: KAMI.com.gh