Enrique Nieto, Justin Trudeau jog together in Quebec
- Canadian Prime Minister Justin Trudeau and Mexican President Enrique Peña Nieto were spotted jogging together
- Netizens have given so much admiration for the two since the APEC Summit 2015
- Nieto and Obama will attend the "Three Amigos" summit in Canada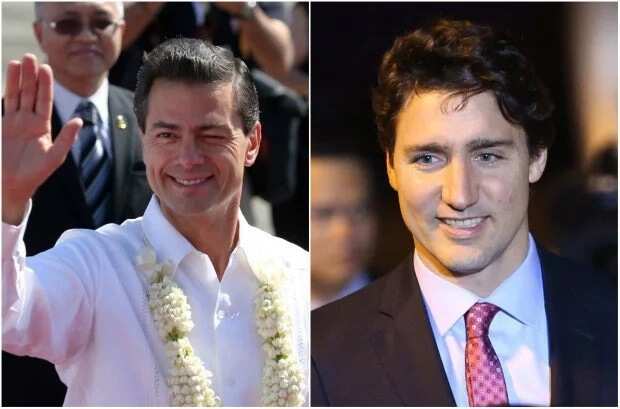 Canadian Prime Minister Justin Trudeau and Mexican President Enrique Peña Nieto, who were referred to by the netizens as the APEC hotties, went jogging on Wednesday (Manila time), across Alexandra Bridge from Ottawa to Gatineau in Quebec.
Nieto posted a photo on his Facebook page while the two were running, wearing running shorts, Nieto paired it with a neon shirt and running shorts, and Trudeau with a shirt from the Saskatchewan Jazz. The photo was posted with the caption: "Before the formal meetings of the day, I ran five miles accompanied by the Prime Minister, Justin Trudeau.".
Nieto is currently in Canada to attend the "Three Amigos", a summit between United States, Canada, and Mexico. US President Barack Obama who is expected to arrive on Thursday, will be heading to his last summit with Canada and Mexico. Brexit votes is said to be of main focus in Obama's meeting with Nieto and Trudeau, while Mexico's Finance Minister Luis Videgaray added that this year's North American leaders' summit will also look at how to effectively foster trade among the three countries.
Netizens went gaga over Trudeau and Nieto when the two became social media's main attraction during the Asia Pacific Economic Cooperation (APEC) Summit 2015 held in the Philippines. During APEC, there was intense buzz on social media when the hashtag #APEChottie trended on twitter, the moment the two leaders arrived in the country. Nieto and Trudeau were named as the most handsome among APEC heads of state and that was when the hype began.
Several photos of the two went viral on Facebook and Twitter while netizens were torn between the two in the battle of APEC's most handsome leader. There was so much admiration for the two nation leaders from social media users and even from the members of the media when some tried to get a selfie from afar during the coverage of the APEC Summit 2015. - AA, Kami Media
Source: KAMI.com.gh