3k drug addcits surrender, vow to end drug use
-Incoming DILG Sectary Mike Sueno has confirmed that almost 3000 drug dependents voluntarily surrendered
-The 3000 drug dependents who turned themselves in took an oath of promise to stop drug use
-Sueno emphasized the commitment of the incoming Duterte administration in eliminating drugs and criminality in the country
Incoming Department of the Interior and Local Government (DILG) Secretary Mike Sueno has confirmed that almost 3000 drug dependents voluntarily surrendered and took an oath of promise to stop the use of drugs in the town of Sultan Kudarat.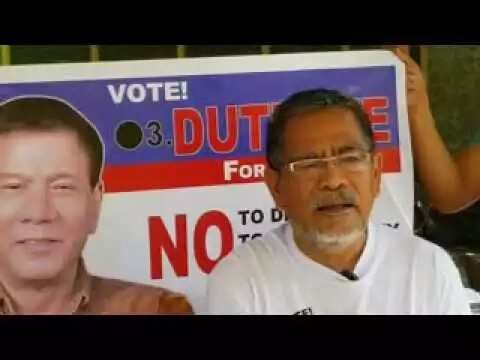 The ceremony, which was organized by Philippine National Police (PNP) along with Philippine Drug Enforcement Agency (PDEA) and other concerned government agencies, is in line with President-elect Rodrigo Duterte's strong stance against drugs and criminality in his administration.
In an interview, Sueno said that the drug dependents who submitted themselves took an oath of promise in front of some government officials to stop the use of drugs. In a report, the incoming DILG chief said that he was invited by Sultan Kudarat Gov. Pax Mangudadato to witness the ceremony.
READ ALSO: GOOD NEWS! Incoming DU30 admin plans on extending gov't ids validity
According to Sueno, who is set to replace Sec. Mel Senen Sarmiento, the number of drug users who voluntarily surrender is continuously increasing even before Davao City mayor Duterte assumes office on Thursday.
He also admitted that while citizens take an active part in response to Duterte's call of a drug-free country in his term, the number of government officials who turn out to be involved in drug use is also increasing according to the validation that the incoming Duterte administration is conducting.
RECOMMENDED: Outgoing president Aquino will no longer deliver a departure speech; here's why
Sueno explained that the validation process is geared on identifying local government officials who are involved in drug use.
The secretary also called for the public's participation in the drive and campaigns against drug abuse in the country. He emphasized that Duterte is committed to eradicate drugs which is linked to criminality in the country as soon as possible.
Duterte, who won on a positive change campaign narrative, earlier promised to achieve a drug-free country in three to six months of his term. –MR, Kami Media
 READ ALSO: Militant groups gathered in Davao city; here's why
Source: KAMI.com.gh