- Thrill-seeker almost eaten by a saltwater crocodile
- Saltwater crocodiles are identified as one of the deadliest creatures in Australia
- Giant crocodile's behavior captured on video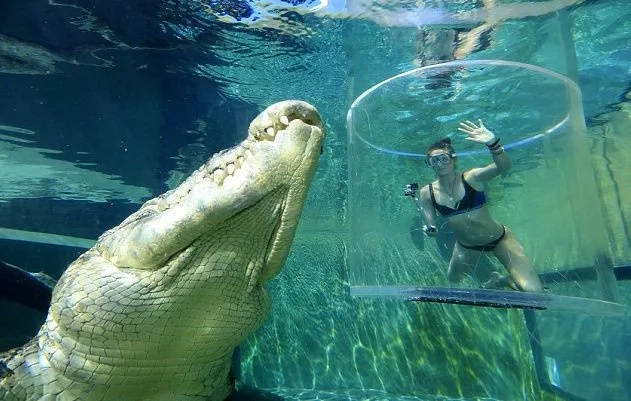 Some people just want to live a life full of thrill and excitement, be it putting their dear life at stake just like Franny Plumridge, 26, who dared to dive with the 17ft saltwater crocodile at the Crocosaurus Cove in Darwin, Australia. Separated only by a thin sheet of plastic, Plumbridge almost turned as the massive creature's meal of the day as it snapped its giant jaws just a few centimeters away from her.
Saltwater crocodiles are known for being one of the most dangerous and deadliest creatures in Australia. These plentiful creatures across Australia are feared for its massive appearance (Saltwater crocodiles are the largest reptile in the world in terms of mass, it can weigh over 1000kg) and its aggressive characteristic. The giant is as well territorial and can kill an average of one to two people a year.
READ ALSO: LOOK! Cable cars in the city soon
Despite the fact that this kind of crocodile brings such fear to people, Plumridge seems to find fulfillment in interacting with these kinds of creature. She described her experience as "…fascinating to be so close to such an ancient creature.". She was indeed so close to the giant that she could even look at every bump on the crocodile's back and count its teeth. She shared one instance when she looked at the monstrous creature's eyes and they stared back straight at her eyes.
For some, diving with this much feared creature would be a one of a kind experience but Plumridge's interaction with the giant beast was just one of her daredevil stunts. She shared some of her most daring experiences like being followed by a grizzly bear while hiking in Canada, and constantly freediving in Byron Bay, an area known to be a home for notorious sharks.
She was so thrilled having the best seat to watch the crocodile and her most memorable experience was capturing the beast seemingly glancing at its cage on video. - AA, Kami Media
READ ALSO: Oops! Photos of cheating man with mistress discovered by wife. Here's what happened next
Source: Kami.com.ph