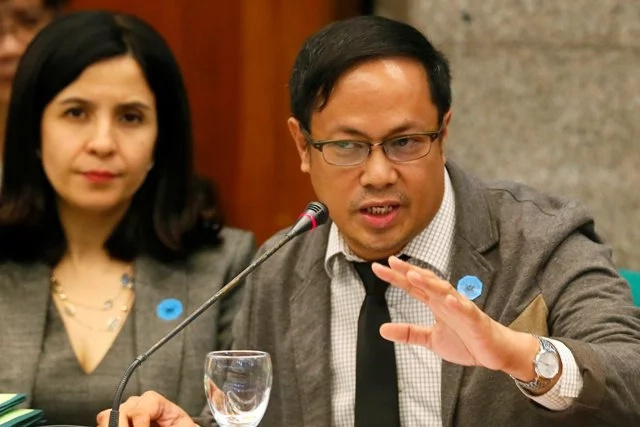 RCBC Reveals Names Of 2 Owners Of Fake Accounts
The Rizal Commercial Bank Corp.(RCBC) revealed on Tuesday that it has identified the faces used to open two accounts that laundered the $81M stolen from Bangladesh Bank.
Maria Cecilia "Macel" Fernandez-Estavillo, head of RCBC legal and regulatory affairs named two former colleagues of dismissed branch manager Maia Deguito, Adrian Yujuico and Robert Bonagua as the people whose faces were used in the creation of bank accounts. Estavillo said: "We looked at the IDs submitted. We've identified two out the five IDs used, the other three we have not identified.".
Yujuico was first identified as the face used for the fake Jessie Christoper Lagrosas account. Yujuico is a reserve officer in RCBC and not assigned to a specific branch was allegedly on site with Deguito at the branch during the day of the laundering.
Romula Agarrado, assigned to Jupiter branch at the time, submitted in an affidavit and swore that he was offering by a bribe by Deguito of P5M at Yujuico's house. According to Estavillo, Agarrado's claim is supported by the other affidavits of bank employees Laureen Anthony Escobar and Raymart Marbella.
"Adrian Yujuico's face comes out in the Lagrosas account which had P30 million," said Estavillo. Yujuico denied the claim by RCBC during the Senate Blue Ribbon Hearing.
"I hope I can see the ID so that I can verify if it is me," said Yujuico. He claims he cannot remember if he was at branch on February 5.
"We have another account that we've identified and it's the Michael Cruz account. We believe that face is of a gentleman by the name of Robert Bonagua. Based on his Facebook account he works -- or is a senior manager of the former employer of Maia Deguito," Estavillo also said.
READ ALSO: Bangladesh Bank Heist Update: Kim Wong Returns Another 38 Million Pesos
Deguito denies claims by RCBC
According to Deguito, she personally saw the documents used to open the account and was sure that Yujuico's face was not one of them. She lamented that her former employee had been dragged into the isuse. Yujuico frequents the RCBC branch of Deguito, and if he were really there, the "audit department would have recognized him already".
"Just to note, Robert Bonagua is also from EastWest Bank, Adrian came from EastWest Bank, I came from EastWest bank, (Angela) Torres came from EastWest Bank. I don't know why EastWest Bank has been dragged on this," Deguito said. Eastwest bank has said that it had no involvement in the case. Banks often recruit people who came from other banks.
READ ALSO: Long Time Business Clients Back RCBC
"I feel it's very unfair," Deguito said. Estavillo said that only one of the five newly opened accounts received the customary "Thank You" letters, suggesting that the accounts had false or inaccurate information. Deguito dismissed this claim.
Sen. Bam Aquino also tried to verify the accounts and learned that the Land Transportation Office has confirmed that the drivers' licenses used to open the account were fake.
Source: Kami.com.ph