Young woman's face slashed after BF forever got jealous
- Turns out that even in relationships forever is unreal
- Best friends can end up being worst enemies
- Insecurities even with little things can spark violence
We grew up believing that beauty is a thing of forever, while we are told that beauty isn't measured by physical attributes, most of us take beauty to mean physically appealing. Same is true with friendship. In a community where closeness with families and friends is appreciated, we are taught to recognize the value of every relationship we build. Who would have thought that both values will be ruined just because of insecurities?
If you've been monitoring social media trends recently, you may have come across the unfortunate photos showing a young woman with a young innocent-looking face slashed to bleed by her 'best-friend'.
The girl who allegedly cut the young woman's face by almost half was identified as Nicole Cruz, while the victim has been identified as Haynna Medina who turns out to be Nicole's best friend.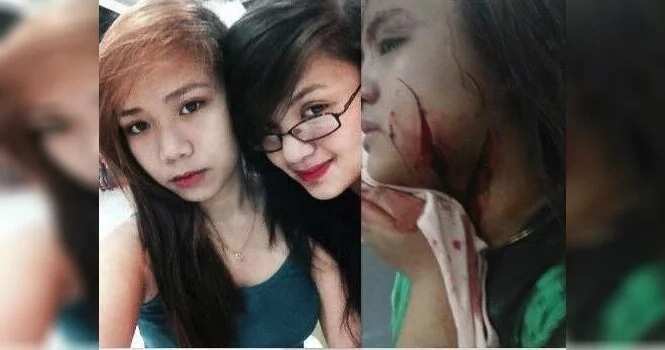 READ ALSO: 12 ways to break off a relationship with dignity
Haynna posted on her Facebook page that while she was walking, she was approached by Nicole along with some girls whom she decided not to name. She recounted what happened that time when Nicole pulled her by the hair; hit her and drew blade from her pocket which has been used to wound her angelic face.
The real reason as to why Nicole resorted to slash Haynna's face using blade is unclear although there were rumors as to what caused the two to severed their ties and end up their friendship.
Some claimed that Nicole got jealous and was insecure of Haynna's appeal so she ruined her face to get away with it. Others claim that it because of a guy that Nicole resorted to violence against her best friend.
READ ALSO: Five types of people we hate in meetings
Relationships have been broken. Scars were born. Forever even in relationships in unreal. People online have spoken. They have criticized Nicole's actions and expressed their concern for condition. They have also encouraged Haynna to seek for legal actions but even if she chooses to go for legal means, Nicole cannot be held legally-responsible as she is a minor.
It's just sad that the two has to end their friendship over something that they could talk about over a cup of coffee or their favorite meal, because I am sure that for the days or months or years that they've been together they shared unforgettable experiences, experiences which will now become part of the past.
In a world where connections and relationships are easily made, we ought to be careful. We never know, our 'best friend' could also be the same person who will ruin our face which is regrettable, something we cannot afford to happen. -MR, Kami Media
RELATED: Facebook should not be a primary source of information
Source: KAMI.com.gh