Church clarifies Pope's apology to LGBT people
- A Catholic Church official has clarified the comments of Pope Francis about apologizing to the members of the LGBT community
- According to the CBCP executive secretary, the Church doctrine that a homosexual act is a sin will never change but Christians who mistreated and discriminated LGBTs should apologize for their behavior
- The CBCP said that Christians should love, respect and welcome LGBTs but gently remind them that the homosexual acts are sinful in nature according to Church doctrine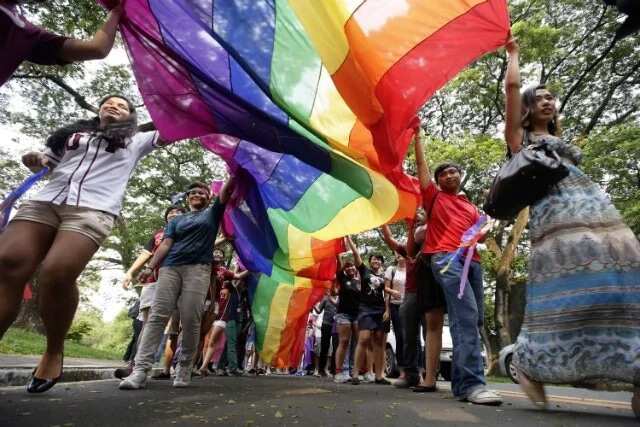 A Catholic Church official gave a clarification on Monday about Pope Francis' call for Christians to apologize to the members of the LGBT (lesbian, gay, bisexual, transgender) community.
According to Father Jerome Secillano, Catholic Bishops' Conference of the Philippines (CBCP) executive secretary, Pope Francis wants Christians to apologize to the LGBT community for mistreating and discriminating them. However, the Church doctrine on homosexual acts remains the same.
"But it has to be emphasized that the Pope's apology is not in any way related to the doctrine of the Church on homosexuality," Fr. Secillano said in a text message to media on Monday.
READ ALSO: Pope Francis to Christians: Apologize to gays
"What the apology implies is that homosexuals should also be treated with respect, compassion and with high regard for their dignity as human beings," the CBCP executive secretary added.
In an earlier statement from the CBCP, the Church said that sexual attraction to another person of the same sex was not a sin but acting upon the desire or attraction is a sin.
According to the teachings of the Church, sinners and people with sinful desires should never be mistreated, disrespected and discriminated but should instead be loved and guided with compassion in order for them to understand the doctrines of the Church.
READ ALSO: Pope seeks tolerance for divorced but not for gay marriage
"The Catholic Church looks at her children who have deep seated homosexual attraction with motherly compassion and paternal love, even as she reminds them that in cultures that have lost sight of the richness and diversity of friendships that enhance the human condition, those who struggle with homosexuality are called to witness to the life-giving nature of virtue-based friendships not ordered to sexual acts," Archbishop Socrates Villegas, CBCP president, stated in a pastoral letter last year. – DN, Kami Media
RELATED: Rody receives special request from LGBT community
Source: KAMI.com.gh