Marcos' burial site filled with stones
-Last Sunday several groups laid rocks and stones on the supposed burial site of late President Ferdinand Marcos at the Libingan ng mga Bayani
-More than 100 people left stones representing the names of persons who were kidnapped, tortured or murdered during Martial Law
-Susan Quimpo of the Martial Law Chronicles Project Team hopes that others will follow their initiative to raise awareness and remind everyone of the horrors of the Martial Law era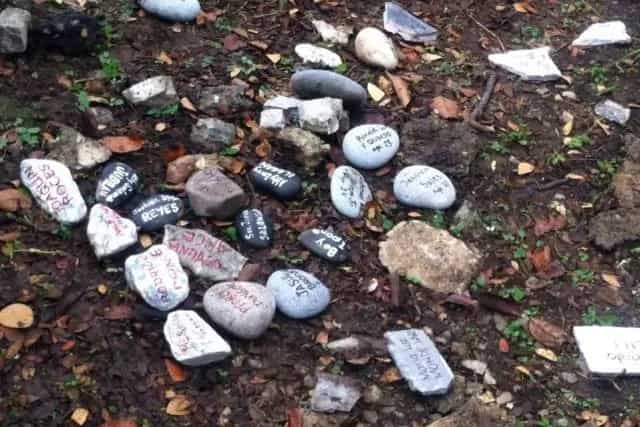 The activity was a collaboration among various groups—Bawat Bato, Bantayog, Martial Law Chronicles Project Team, UP Samasa Alumni, Claimants 1081, Akbayan Youth and Nameless Martyrs and Heroes.
On their Facebook page, Bawat Bato stresses that they are a non-partisan movement with no affiliations to any party, organization or collective. They encourage everyone to take a stand. Bawat Bato claims that the movement is built on "an idea that belongs to everyone who feels dictators do not deserve a hero's burial and that history should not be rewritten."
Susan Quimpo said that the activity was a symbolic gesture that Martial Law victims, who are the real heroes, should be buried at the Libingan ng mga Bayani and not Marcos. Quimpo added that critically-acclaimed Illustrado author Michael Syjuco thought of using rocks as a symbolic gesture.
READ ALSO: DEBATE: Should late President Marcos be buried in the Heroes' Cemetery?
Since his death in 1989, Marcos' burial at the heroes' cemetery had been met with strong opposition because of the atrocities committed during the Martial Law regime. Last May, President-elect Rodrigo Duterte said that Marcos should be buried at the cemetery because he has served the country as a soldier. In an effort to stop this, Quimpo said last Sunday's activity was also a call for Duterte not to push through with his plan to bury the dictator at the Libingan ng mga Bayani.
Bawat Bato has released a list of Martial Law victims on their Facebook page so that people may choose to write their names on a stone. It also actively gathering names of others who are not included in said list. Visit their Facebook page for more details. – IS, Kami Media
RELATED: In defense of Martial law: Why Marcos is a hero
Source: KAMI.com.gh