- Department of Science and Technology (DOST) in partnership with the Philippine National Railways (PNR) launched a pinoy-made hybrid train
- PNR general Manager Joseph Allan Dilay hopes that this project will solve the train shortage of the PNR
- The hybrid train will undergo test runs starting next week
Filipinos are known not only for the white tropical beaches and unparalleled hospitality, but also for the Pinoy skill and talent.
Yesterday, new innovation was yet again launched by our very own Filipino engineers!
A 100% pinoy-made Electric Hybrid Train (EHT) was launched by the Department of Science and Technology (DOST) in partnership with the Philippine National Railways (PNR). It is locally developed and designed by our very own Filipino engineers that could run on our current standard rail tracks.
READ ALSO: Emergency powers, a must for Duterte's traffic reforms
The prototype of the five-car electric hybrid train is now ready for some rigorous safety and reliability check which is set for the next weeks and months.
It was launched at the PNR's Tutuban station in Manila yesterday which ceremony was joined by the DOST Secretary Mario Montejo, PNR general Manager Joseph Allan Dilay, and PNR Board of Directors.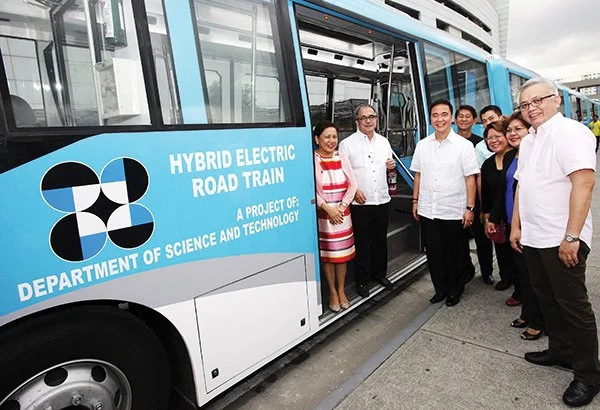 At the launching ceremony, Dilay said on his speech that the Metals Industry Research and Development Center (MIRDC) of DOST is the leading player in the project.
He also added that they are very interested in the project and looking forward to its success especially considering the current lack of trains.
PNR currently has 7 operating trains. But only 6 of them are used on a daily basis since they always reserve one train for emergency purposes.
(Video from Youtube user: wahpinas)
With this innovation, Dilay is very positive that the EHT will solve the problem.
During the ceremony, the new Electronic Hybrid Train prototype is set to undergo daily test runs on the rails of Tutuban Station Manila starting next week.
"This proves yet again that our engineers are very capable to develop high-tech systems if only they are empowered to pursue such R&D (research & development) activities," Secretary Montejo said.
READ ALSO: Aquino creates Dep't of Information and Communications
Source: Kami.com.ph