Hilarious: Brothers trick sister into believing a zombie apocalypse has begun!
  "State and local officials have reported cases of high fever, nausea, death and even cannibalism" began the CDC warning over the radio.
Cabot, Hudson and Barrett Phillips are playing a prank on their younger sister Millicent who just had her wisdom teeth removed and is still loopy from the anesthesia.
The situation quickly escalates for Millicent as the Phillips brothers make the prank increasingly ridiculous.
Her brothers say that the people commenting on the video admire the competency of Millicent as a companion in a SHTF situation.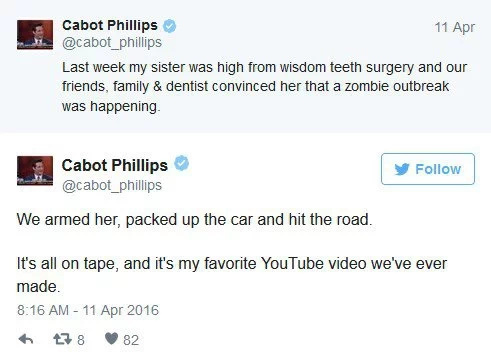 "She's no pushover and does her fair share of pranking her older brothers so she understood that we couldn't pass up an opportunity like this"
"She took it in stride and just wanted to sleep once she realized that she wasn't going to be eaten by any zombies."
Source: KAMI.com.gh