- Bahaghari, a gay rights group, has called on President-elect Rodrigo Duterte to increase the government's efforts in helping and protecting the LGBT community
- The group wants Duterte to focus on jobs, salary, healthcare, and discrimination related to the LGBT community
- Despite his anti-gay remark in the past, the group is hopeful that Duterte would bring a cultural change in the Philippines that would benefit the members of the LGBT community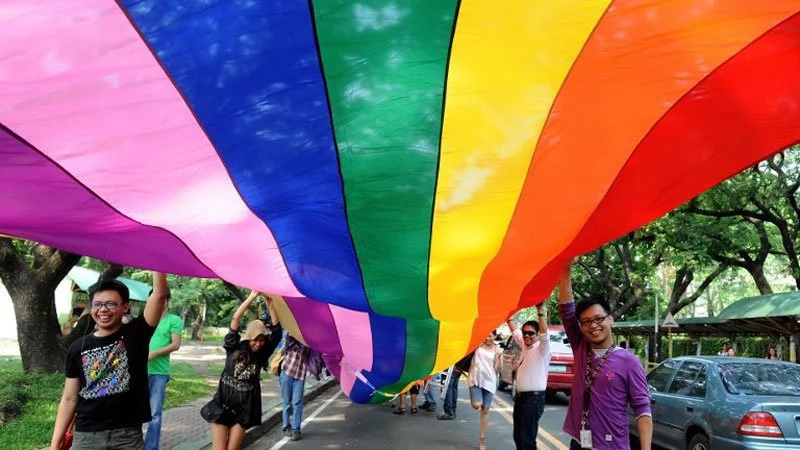 A gay rights advocacy group has urged President-elect Rodrigo "Rody" Duterte to focus on "KKK" – which are three things that will help improve the LGBT (lesbian, gay, bisexual and transgender) community's way of life.
According to members of Bahaghari, the first K refers to "Kabuhayan at dagdag sahod" (more jobs and higher salary); the second K refers to "Kalusugan" (programs and services that cater to the healthcare and medical needs of the LGBT community); and the third K refers to Kontra-diskriminasyon (prevention of any form of discrimination against members of the LGBT community).
The LGBT rights organization made its appeal on Saturday to the incoming president during a protest in Manila.
"Duterte promised that he would end contractualization—LGBTs are very much affected by [this]. But at the same time, we are demanding that everyone, not just LGBTs, receive just compensation and more stable jobs," Bahaghari secretary general Aaron Bonette said.
READ ALSO: Death for drug addicts than rehab or jail – Duterte
Bonette also pointed out the worsening epidemic of HIV/AIDS in the country during the administration of outgoing President Benigno Aquino III, with the majority of cases involving LGBT members.
"We are one of the countries with the worst HIV/AIDS situation. This has been a perennial problem which the Aquino administration failed to address," the Bahaghari secretary general added.
Despite Duterte calling rival Mar Roxas as "bayot" or gay during his election campaign, the Bahaghari group believes that the incoming president would do his best in protecting the rights of the LGBT community and become more mindful of his future statements.
READ ALSO: Duterte to drug addicts: If you don't stop, I will surely kill you
"We strongly condemned that statement and hopefully, Duterte will be more sensitive in his choice of words," Bonette said.
The group also hoped that Duterte would not only sign and implement ordinances that will help the LGBT community but also bring a cultural change of recognition and respect for the LGBT in the country.
RELATED: 16 basic questions Duterte supporters should be asking… but aren't
Source: Kami.com.ph