- An unknown man listed all of the dates he made an effort to bed his wife
- He only managed to get 3 yeses out of 27 attempts
- The wife received the spreadsheet through an email from her husband
Some deem that a happy marriage is equal to the amount of action each partner gets. Sure, it is one way of showing affection and rekindling the flame but it could also provide you a deeper sense of connection with your spouse.
What would you do if your significant other ignores you after several attempts of intimacy? One resorted to charting all of his wife's excuses to love making in an Excel spreadsheet.
An unnamed man decided to record a month's worth of excuses his wife gave him whenever he asked for attention.
READ ALSO: WATCH: Blogger tried giving up sex for a year; find out what happened after 110 days
There were three columns present in the spreadsheet: Column A listed of all the dates he had asked his wife – almost every day, starting from June 3rd up to July 16th. Responses to his advances were noted on Column B, and if he was refused, the reason was listed in verbatim on Column C.
According to the spreadsheet, the sexually-frustrated husband only received three nights of passion out of 27 tries. Excuses vary from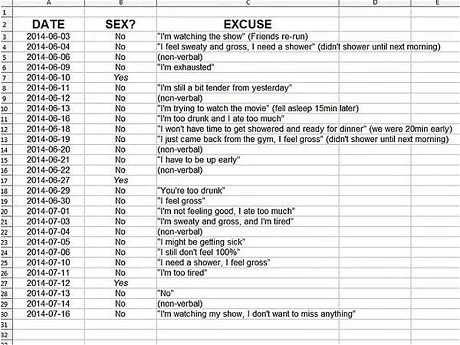 The wife posted the spreadsheet on Reddit, and took it down soon afterwards. However, it was too late as it has already gone viral. She shared that she received an email from her husband while she was on her way to the airport, claiming that it was unusual as they always communicated either in person or through text. Upon opening the email, her husband informed her that he would not miss her for the 10 days to come and attached was the spreadsheet he made.
READ ALSO: PHOTOS: Dad cop killed on duty; how his pregnant wife honors him will make you cry
Shocked, she tried contacting her husband but had a difficult time getting in touch with him.
Upon posting, viewers were divided as there were some who sided with the husband – defending him that if the same predicament had occurred to them, they would feel as if they were no longer wanted. The others who took the wife's side pointed out how immature and pathetic the husband appeared on his actions.
 Nevertheless, they should work on their communication.
READ ALSO: This funny story proves why husband should NEVER complain about his wife
Source: Kami.com.ph