Duterte to drug addicts: If you don't stop, I will surely kill you
- President-elect Rodrigo Duterte said in a speech that he would surely kill drug addicts who will not stop engaging in illegal drug-related activities
- From May 10, an estimate of almost 54 suspected drug users have already been killed according to police records
- Despite criticisms on the rise of vigilantism, Duterte maintained his tough position on the matter
In his speech during a thanksgiving party in Cebu, president-elect Rodrigo Duterte reassured that he would continue his campaign against drugs and crime when he officially takes seat as president.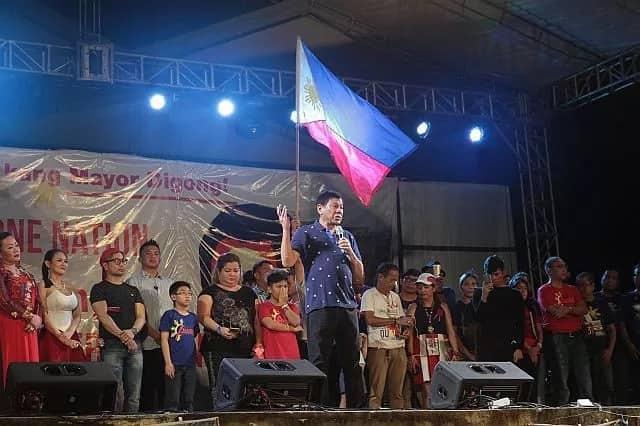 Philippine Drug Enforcement Agency (PDEA) reported that there are over 3 million Filipinos who are involved in the use of illegal drugs.
In front of an estimate of 2,500 people, Duterte explained that once someone becomes addicted to shabu (crystal meth), "rehabilitation is no longer a viable option."
Speaking in his native language, Cebuano, Duterte also said that If he couldn't convince drug addicts to stop, then he would kill them. "If you're into drugs, I'm very sorry. I'll have to apologize to your family because you'll surely get killed," he added.
READ: Duterte is the 'Punisher': 25 drug dealers dead in just 5 days
According to reports, there were already almost 54 suspected drug users killed in police operations.
Even though Duterte is not proclaimed, local government units and police departments have already acted on the marching orders of the president-elect.
In Cebu city alone, newly elected mayor Osmeña has offered P50,000 reward for police officers who will kill drug suspects. "I have a general message for the police: if you kill a drug lord in the line of duty, you get P50,000, basta (for as long as it's) legal or in the line of duty," he said.
READ: Duterte willing to match bounty set by drug lords
In an earlier report, local government of Quezon City has also employed a tough stance on illegal drug use resulting to the surrender of almost 700 drug users and pushers. Local police said that it's also in line with the president-elect's vow to suppress crime in the country.
Critics have expressed their dismay towards the killings saying it's "embarrassing", however Duterte responded by regarding crimes involving drugs as "more embarrassing".
READ: CBCP condemns rising cases of vigilant acts
Source: KAMI.com.gh