- Baron Geisler vs Kiko Matos fight concluded in a draw.
- Geisler chickened out in Round 3?
- Celebrities came to watch the exhibition fight.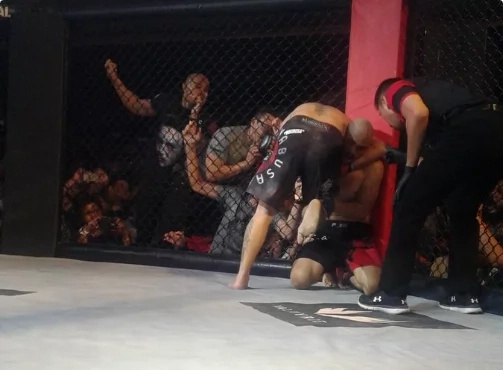 The two-round match of actors Baron Geisler and Kiko Matos ended in a draw disappointing the crowd in Valkyrie last night.
The fight was held in Valkyrie, The Palace where the actors tried to settle their beef that stemmed from a brawl in a bar in Tomas Morato. Universal Reality Combat Championship (URCC) ruled the bout as draw after the actors declined to fight for another round.
The two entered the cage, the crowd booed Kiko Matos and cheered for Baron Geisler.
Round 1 is for Kiko Matos
From the blue corner, Matos attacked head strong in the first round. He pounded Geisler with so much gusto. He got Baron down on the floor and rain punches on him. Baron was saved by the bell.
[embed][/embed]
Round 2 sees Baron's payback
Baron Geisler avenged his earlier disadvantage and caught Kiko in a headlock and kicked him in the body. Kiko was saved by the bell. After the second round, both fighters were out of breath with Kiko lying in the floor.
[embed][/embed]
After the second round, the father of URCC Alvin Aguilar and talked to the fighters to battle in another round. While Kiko's camp agreed to fight for another round, Baron shook his head declining to fight.
The two hugged each other and walked out as brothers. However, the decision left the crowd disappointed and booed the scene. The two exit the cage for the dugout.
Later, Baron said that the fight is not for show and he and Kiko Matos have finally settled whatever animosity they had.
Celebrities showed support
The crowd in Valkyrie is graced by celebrities who came and watch the much anticipated fight. Some of the celebrities spotted are: Richard Gutierrez, Epy Quizon, Polo Ravales, Richard Yap, Bubbles Paraiso, Tim Yap, Mark Cardona, Solenn Heussaff, and Meryl Soriano.
The fight ended with an after party at the Palace Pool Club, while the Valkyrie opened for its regular patrons.
Source: Kami.com.ph