Indian girl slept beside her parents, dragged by leopard
- 12-year old Ravina was grabbed by a leopard as she was sleeping soundly with her parents around midnight
- Her mom took notice that she was gone around 4am
- The child was found dead in their backyard with many teeth marks
Imagine the terrible dread of how you felt safe sleeping beside your parents but got dragged away by a leopard in the middle of the night. A 12-year old child, identified as Ravina, suffered the horrible fate in a village near Udaipur, in India, on Thursday, June 23.
The child was sleeping peacefully on the terrace of their house with her father, Ranjit Singh and mother on Wednesday night. All was well until a leopard bit her at the neck and dragged her away around midnight.
Unfortunately, nobody had noticed until Ravina's mother woke up around 4 in the morning and saw that she was missing. The family immediately set out in a panic search for their daughter. They found the child's body – covered in mud and mangled with several teeth marks – in their home's backyard. Pugmarks were found in the ground as well. Police and forest authorities have gone on in search for the animal.
READ ALSO: Watch: Cruel teenager throws cat from a balcony!
The villagers were mortified with the incident and were furious with authorities – seeing as to how they could be doing more and better in handling the situation in regards to leopard attacks.
Regrettably, there had already been numerous encounters with leopards earlier this year. Last April, a video had gone viral wherein a leopard was seen attacking people outside an army hospital in Meerut, Uttar Pradesh. A group of people were trying to capture the animal until it pounced on one of the men and ran inside an under construction building.
Another episode of a leopard attack occurred on March. A 6-year old male leopard strayed into school grounds and had managed to maul 3 people until it was tranquilized. Officials were able to lock inside a bathroom beforehand, but escaped and exited to the swimming pool complex where it started to take offense. It was a day-long battle as it took at least 2 hours for the tranquilizer to kick in. The leopard was then taken to a wildlife park for treatment.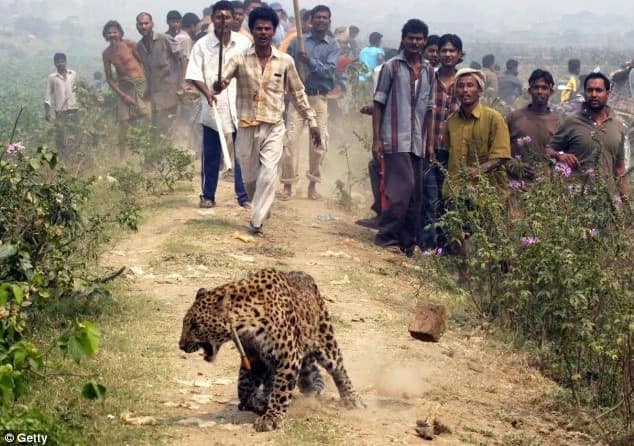 The Wildlife Institute of India stated that the country has around 12,000 – 14,000 leopards.
READ ALSO: WATCH: Lion encounters a white tiger, what they did next will melt your heart
Source: KAMI.com.gh