Villagers, 'mud people' rejoice to their patron saint
- The ritual originated during the Japanese occupation
- Locals from Biblicat, Nueva Ecija, cover their bodies in mud and wear banana leaves as capes
- Most villagers prayed for better health
Filipino villagers, numbering to hundreds, came into an outdoor mass wearing their Sunday's best. However, their best attire came with a twist – they were also covered in mud and had banana leaves worn as capes. They wear this bizarre attire in honor and gratitude to their patron saint, John the Baptist.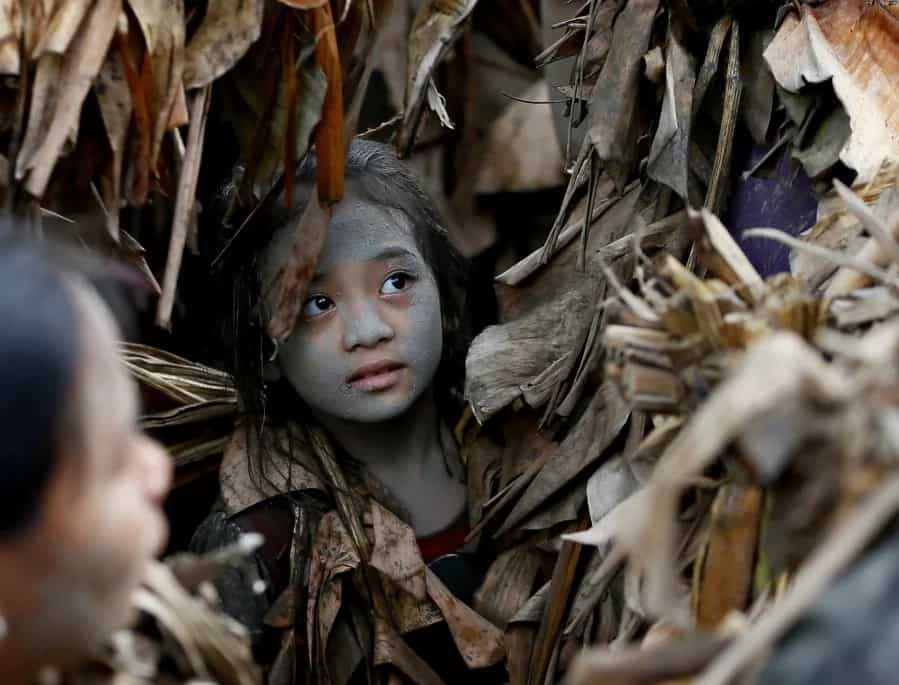 The "Taong Putik" or "Mud People" Festival is celebrated by eager Biblicat locals every June 24th in Biblicat, located in the northern part of Nueva Ecija. The villagers of the Aliaga Township have been celebrating this festival for decades in gratitude for Saint John the Baptist and God.
The ritual had its origins dating back to the Japanese occupation during the Second World War. The Japanese Imperial Army soldiers had threatened to kill all of the male villagers in the church courtyard by firing squad, and in desperation, the women and children had prayed rigorously to Saint John.  A sudden downpour of rain showered over the town and saved the villagers. In overexcitement and joy, the villagers rolled around in the mud and they carried out the tradition ever since.
A parish priest said that the some of the villagers prayed for continued blessings and some prayed for their personal problems. This became their yearly vow, with many of them also praying for their trials and for healing them for the past year. One participant, painted in mud, said he prayed for his relatives who were sick and others had prayed for treating their ailments.
READ ALSO: Why a newly-discovered orchid was named after Pnoy
Many of the men, women, and children all caked in mud and clad with banana leaves for capes collect candles on the main road of Biblicat while walking to the main church. They then light these candles and make wishes.
The annual festival has been drawing a lot of visitors and tourists to the town to witness this spectacle. It shows the diversity and uniqueness of how Filipinos celebrate their Catholicism.
READ ALSO: Church respects LGBT sagala, urge gays to respect themselves too
Source: KAMI.com.gh