Norwegian Ambassador to Duterte: Thank you so much
- Norwegian Ambassador Erik Forner thanked Duterte for his efforts in negotiating the release of Norwegian captive Kjartan Sekkingstad
- Sekkingstad is the only remaining hostage of the Abu Sayyaf since the beheading of two Canadian hostages, and the release of a Filipina hostage
- Duterte promised that he will continue his efforts in securing the liberty of Sekkingstad
In a meeting that took place in Davao, Norwegian Ambassador Erik Former expressed his gratitude towards incoming president Duterte's efforts in securing the release of a Norwegian hostage by the Abu Sayyaf.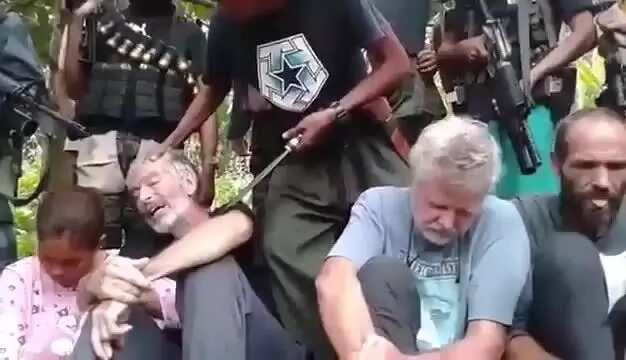 The meeting happened at the Malacañang of the South in Panacan, Davao on Friday, June 24. This was after Duterte met with Marites Flor, also a captive of the militant group who was just recently released.
In a video released by the state-run Radio TV Malacañang (RTVM) on Friday evening, Forner told Duterte: "We are very thankful for what you are doing."
READ: 7 Abu Sayyaf members killed; 16 soldiers wounded in Sulu clash
Norwegian hostage Kjartan Sekkingstad is the only remaining captive of the Abu Sayyaf from the Samal Island kidnapping incident in September of last year.
President-elect Duterte has already assured the Norwegian ambassador that he will help in the negotiations for Sekkingstand's release.
Also in the meeting was Flor herself. She talked about how Sekkingstad was hoping that the Norwegian government attends to his condition. She said: "He really needs help.... I am so sorry Kjartan is not here."
RELATED: BREAKING: Bandit group Abu Sayyaf frees Filipina captive
Among the four hostages, Canadians John Ridsdel and Robert Hall were already beheaded by the Abu Sayyaf. According to reports, ransom demands weren't met causing the death of the Canadian captives.
Canadian Prime Minister Justin Trudeau has called the incident "an act of cold-blooded murder".
Duterte had already said before that he would actively act on the terrorism problem in the Philippines. However, he explained that he couldn't fix it immediately, and that he needs more time.
READ ALSO: Duterte promised confrontation with Abu Sayyaf
Source: KAMI.com.gh