- The house of a former member of the Iglesia Ni Cristo, who was expelled for allegedly fighting with the church administration, was invaded by four gunmen firing shots for five minutes
- The expelled INC member, her mother and two daughters were at home during the attack
- The INC denies having any involvement in the attack of the ex-member
The Tanay, Rizal house of excommunicated member of Iglesia Ni Cristo (INC) was invaded on early Friday morning by four unidentified gunmen who also fired shots and damaged the house.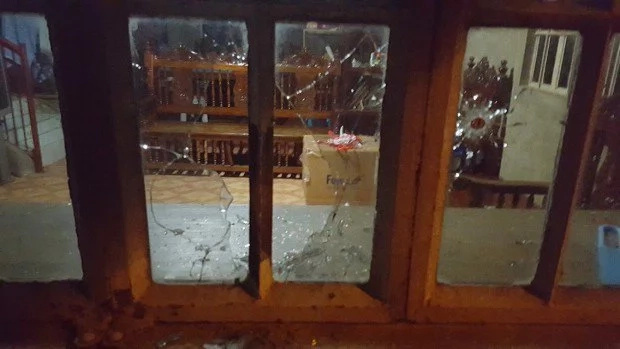 Lorelei de los Santos, who was expelled from the INC for allegedly fighting against the church administration, said that she refused to believe that the home invasion was related to the support she is giving to Lolita, Felix "Angel" Nathaniel II and Marco Eraño Manalo – the expelled siblings of the INC executive minister.
"I can't fathom the idea that they would do this to me. I didn't expose anything. I just supported Ka Lottie since she called for our help, because I can't take it in my heart to see someone suffer. I haven't done anything wrong. I didn't hurt or malign anyone," De los Santos told the Inquirer in a phone interview.
READ ALSO: Court orders eviction of Manalo siblings of INC from Tandang Sora property
De los Santos added that she still loves the INC and remains a faithful member at heart even if she has already been expelled from the church. She and her husband are also reviewing if they have done something wrong to other people in case it was not the INC that was responsible for the attack.
When asked for a comment, INC spokesperson Edwil Zabala told the Inquirer in Filipino:  "We are always being accused of all sorts of crimes by the supporters of Mr. Angel Manalo and Ms. Lottie Hemedez. Let's hope they are not the ones raising these issues against the INC, and those who are really behind the shooting are caught."
Zabala added that the INC will be cleared of any allegations after a proper investigation is conducted by the authorities.
RELATED: Manalo siblings to file new case vs INC
According to the police, the gunmen gained entry into the Tanay property at around 3 a.m. When De los Santos heard the dogs barking, she got up and checked through the window what was going on outside. She then saw one of the men approaching with his gun and aiming for the interior of the house.
She immediately ran to the rooms of her 72-year-old mother and two daughters – aged 8 and 12 – to help keep them safe. The shooting began and lasted for about five minutes, De los Santos narrated. Her husband was in Cavite at the time of the incident.
READ ALSO: Cardinal Tagle issues 'oratio imperata' for new PH leaders
Source: Kami.com.ph