- President Duterte said he can will higher than the set bounty and provide on-the-spot promotions for policemen who can "slaughter" those who attempt to kill him
- The bounty set by the drug lords is currently at P1 billion
- He is still pushing for death penalty so Filipinos will not be treated like animals
Incoming President-elect Rodrigo Duterte announced on Friday that he is willing to match the bounty allegedly set by the drug lords in exchange for his death and that of three other government officials.
Duterte is willing to set the price higher than what the drug lords are currently offering. He even said that any official who is willing to "slaughter" those who plan to kill him can be promoted on the spot.
"No questions asked…. If they put up P100 million, I will give you P150 million, slaughter them. I will give you promotion on the spot, from PO1 [Police Officer 1] to General," he said.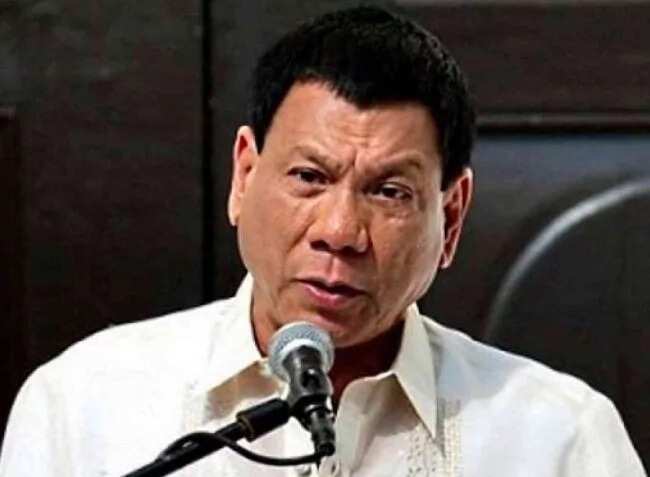 High-profile drug lords, including Peter Co, is said to be raising up to a billion-peso in reward just to assassinate Duterte and others. This is according to Ronald dela Rosa, incoming police chief.
Peter Co is a convicted drug lord. Reports have it that he is one of those who contributed a huge amount of money for the bounty. He is currently imprisoned at the New Bilibid Prison, Muntinlupa City. However, he has requested for a transfer to Iwahig Penal Colony located in Palawan.
READ: Druglords to raise P1B to kill Duterte and others
On the other hand, Duterte has once again urged the Congress to bring back the death penalty through hanging. This will serve as punishment for people who commit heinous crimes. He said that the death penalty is a form of retribution.
"[The Filipinos are being played with], that is why I am asking for re-imposition of death penalty so I can hang them," he said.
He also said that illegal drugs have caused some people to be treated like scorn bags and animals.
"Yung 18 years old nire-rape, pinapatay, tapos sabihin nila na 'wag death penalty because inhuman (Some 18 year olds have been raped, then they'll say death penalty is inhuma?. Ano pang mas inhuman sa ginawa nun (What could be more inhuman that what the rapist did)? Drugs have reduced the human being, parang mga animal lang (Drugs have reduced the human being like animals). 'Yan ang hindi naintindihan ng iba (That is what others do not understand)," Duterte said.
It was in 2006 when the death penalty was lifted.
READ: Drug lords, VIP inmates deny Duterte kill plot
Source: Kami.com.ph