- Reynaldo Domingo, one of the suspects, was allegedly a member of the Jimboy Santos Criminal Group
- Domingo was planning to propose to his long-time girlfriend on Saturday
- The Commission on Human Rights is willing to investigate the deaths of the suspects
On Monday, June 20, seven suspects of kidnapping and robbery were killed by the police during a hot pursuit in the border of Pampanga and Angeles City.
There was reportedly a bloody gunfight between the suspects who were riding a Montero when they first fired shots at the Highway Patrol Group, and the police pursuing them.
One of the suspects killed was Reynaldo Domingo.
READ ALSO: BREAKING: Bandit group Abu Sayyaf frees Filipina captive
Domingo is one of the seven men pursued by the police for being a member of the Jimboy Santos Criminal Group, which is currently involved in a kidnap-for-ransom and carnapping case.
His family was surprised when he was declared dead-on-arrival at the hospital, as he was caught on camera still being able to walk.
According to those who had known him, Domingo was a caring son to his sick mother and a dedicated father to his child.
READ ALSO: Duterte is the 'Punisher': 25 drug dealers dead in just 5 days
They also said that he was about to propose to his long-time girlfriend Marites Carreon on Saturday.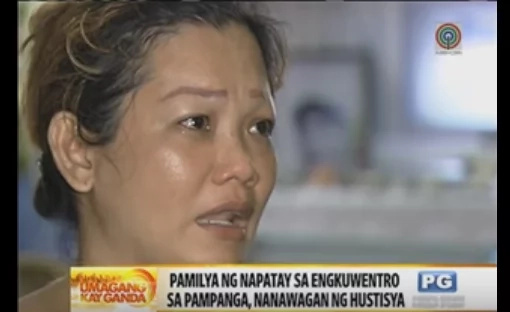 According to Odel Domingo, the suspect's brother, it just so happened that his brother was carrying a huge amount of cash when he got arrested. He also claimed that his sibling was intending to use the money to start a business. Lastly, he was not convinced that his brother was involved in any illegal activity.
Domingo's family is currently seeking justice for his death.
The Commission on Human Rights expressed their eagerness to investigate the encounter that killed the seven suspects.
READ ALSO: CHR supports 'full force' vs Abu Sayyaf
Chief Supt. Aaron Aquino, officer-in-charge of Pampanga Police Regional Office 3, attested that they did everything to help the wounded Domingo and brought the rest of the injured suspects to the hospital.
It is indicated in the suspect's medical certificate that a gunshot in the head was the cause of his death.
The police officers involved were also willing and ready to face investigations regarding the death of the seven suspects.
READ ALSO: Man faked terror attack, triggered major security ops
Source: Kami.com.ph