Raissa Robles Launches Book On Marcos Atrocities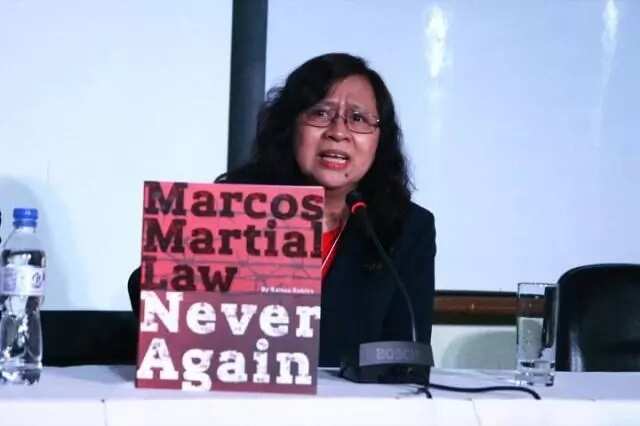 Investigative journalist and award-winning political blogger Raissa Robles on Monday launched a new book that tackles the atrocities committed by the Marcos regime.
The book is entitled, Marcos Martial Law: Never Again. The book launch was held at Bahay Kalinaw in the University of the Philippines Diliman in Quezon City.
The book talks about the cruelty of the Marcos administration during the martial law period.
Using a variety of sources, including official records, reports, books, eyewitness accounts and interviews with survivors and military officers, Robles provided a brief narrative on how and why Marcos declared Martial Law.
Robles also made some revelations in his book, such as Marcos, allegedly a fake war hero, inflated the Communist threat to suit his purposes, and himself helped foster the impression of instability, or how the dictatorship saw the military resort to torture so frequently, the methods acquired nicknames such as "Meralco", "Nawasa", "wet submarine", "dry submarine", "San Juanico Bridge", "ashtray" and "pompyang."
The book, which was edited by award-winning journalist Alan Robles, is published by Filipinos for a Better Philippines, Inc. Prize-winning book designer Felix Mago Miguel provided the book cover, over-all design and layout.
"Marcos Martial Law: Never Again" will be sold in two editions: The collector's edition is a full-color coffee table book, hardbound and with a dust jacket, that will retail for P2,500. The student edition is a black and white volume, with a colored soft cover, exactly the same dimensions as the collector's edition. It will retail for P300.
photo from gmanetwork.com
Source: KAMI.com.gh