- A gigantic fish weighing 400 kilos was caught in Masbate
- Grouper fish is locally known as "enid"
- It will be preserved and displayed in the next Panaad Festival
Fishermen in Masbate aboard the F/B Dona Laura of Laura Fishing caught a giant grouper fish last Monday.
The 7-foot grouper fish, locally known as enid, is believed to be a 7-footer and weighed around 400 kilos.
This fish was then brought to Cadiz City, Negros Occidental, where it became an instant celebrity.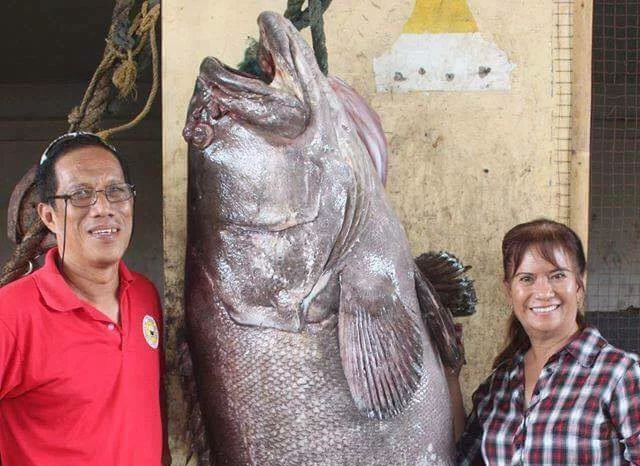 READ: Pinoy fisherman defends West PH Sea from China
Fellow fishermen and the public gathered around the Laura Fishing compound to personally marvel at the size ad beauty of this enid. Most of the people who arrived at the compound located at Barangay Zone 4 made sure to capture the moment and took selfies with the giant enid.
Laura Vijandre, owner of Laura Fishing, revealed that they will be preserving the giant fish nad have it displayed during the next Panaad sg Negros Festival which is held every month of April.
The photo which was shared by Marine Wildlife Watch of the Philippines were swarmed with comments.
READ: 4 reasons not to swim with whale sharks in PH
For instance, a certain Bebang HIbang wrote that grouper fish of this size are not very desirable to consume as the meat does not taste good anymore. She said that it would have been a good step if they left the giant grouper alone.
"It will bring more money if you leave them alone. Groupers are territorial & stay in the area & could be an interesting attraction for divers which may lead to start an eco-tourism & provide livelihood to locals," she commented.
She added that groupers are also good breeders; thus leaving this kind of fish alone can actually help in the conservation program and will guarantee the future not only of the fish species but also of fishermen's catch in the future.
"We don't have to catch & kill everything, when are we going to learn?  We call on agencies like BFAR, DENR, LGU, DOT, NGO. Someone please conduct studies regarding the potential of these species b4 it's too late. 7 of these gigantic groupers were caught on the sea surrounding Panay islands last year. One was reported in Leyte. This catch gives hope for our oceans. Please do something," she said.
Source: Kami.com.ph