- Indonesian warships seized Chinese-flag vessel for allegedly operating within the former's exclusive economic zone
- The confrontations between the Chinese and Indonesian vessels around the Natuna islands sprung when Jakarta commenced a concentrated effort against illegal fishing in 2004.
 - Indonesian President and leaders stand against the assertions of China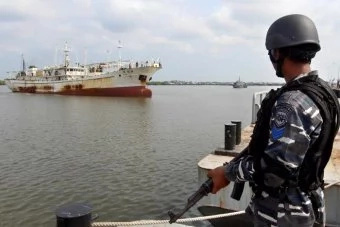 The President of Indonesia, Joko Widodo, visited on Thursday far-flung islands where Indonesian and Chinese vessels have frequently clashed, mounting tensions between countries surrounding the South China Sea.
The government of Indonesia said that President Widodo eyes to defend the sovereignty of Indonesia over the Natuna Islands in his visit. The president was accompanied by sophisticated designation which includes the armed forces chief and foreign minister.
"Natuna is Indonesian territory. That is final," Cabinet Secretary Pramono Anung said.
"As head of government and head of state, the president wants to ensure that Natuna is part of Indonesia's sovereignty," he added.
READ ALSO:  Chinese foreign minister claims more countries side with them on SCS dispute
A week ago, Indonesian warships captured a fishing vessel which raised the flag of China and held its crew because they allegedly operate in the exclusive economic zone of Natuna. This is the third encounter between the vessels of China and Indonesia this year.
Beijing came in protest with the claim that a fisherman was hurt after the Indonesian vessels fired shots as warning, but Jakarta maintained that none of the detained crew was injured.
Indonesia, unlike its surrounding Southeast Asian countries, continues to maintain that it has no maritime disputes with China over the island and that there is no overlapping claim with Beijing over the islets or reefs therein.
READ ALSO: Indonesia promises to do more "decisive actions" in protecting its waters
However, the claim of Beijing to the sea overlaps with the exclusive economic zone of Indonesia.
The visit of Widodo on Thursday is his first call to the Natunas as president. According to his office, his cabinet is to hold a meeting during the trip regarding warship and the economic potential and the future development of the islands.
RELATED: China, upset with Russia's silence on territorial disputes
Source: Kami.com.ph