- The Abu Sayyaf Group (ASG) had a bloody encounter with the government soldiers on June 22
- Seven Abu Sayyaf members died in the clash
- On the other hand, sixteen soldiers are wounded and one remains in a critical condition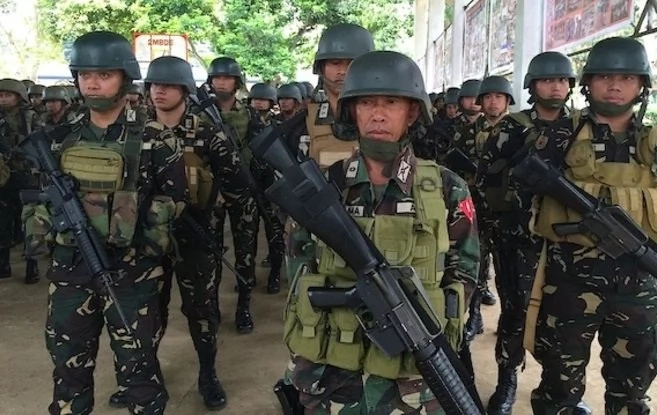 In a clash between government soldiers and Abu Sayyaf Group (ASG) on Wednesday in Sulu province, seven members from the bandit group have been killed according to a television report.
Reports have flourished about the members of Abu Sayaff group keeping hostages. Some were already reportedly killed by them. Last June 13, a Canadian hostage named Robert Hall was beheaded after the deadline for the bringing of ransom had already lapsed. The bandit group demanded P600 million as a ransom for the three hostages.
On June 22, an armed encounter once again transpired in Barangay Panglayahan in the town of Patikul in Sulu.
READ ALSO: Duterte asks for more time to end Abu Sayyaf
A television news channel reported that a total of seven members of the Abu Sayaff bandits, in addition to those previously killed in the past days, were killed during the clash with the government soldiers.
The bloody armed battle also left 16 Filipino soldiers badly wounded, as reported in Unang Balita on Thursday morning as they cite sources from the military. One wounded soldier is in critical condition as stated in the report.
According to the military report, 10 other soldiers were also injured a day before the said encounter when three bandits got killed, which also happened in Patikul.
Authorities reported that the bandit group is still keeping more than 20 foreigners abducted in hostage.
READ ALSO: CHR supports 'full force' vs Abu Sayyaf
The Abu Sayaff seemed to be very serious about their endeavor of collecting money from the government. Back in 2014, the bandits claimed that they have received $5 million as a ransom for the release of one German hostage, which was successful.
The operation regarding the pursuit of these alleged Abu Sayaff groups are still ongoing despite the number of casualties.
The armed forces and their troops in Sulu are still dedicated and committed to the assigned operation. In the meantime, their focus is on the primary mission of capturing the bandit group and saving the captives.
RELATED: Abu Sayyaf vs. AFP: 3 killed, 26 injured
Source: Kami.com.ph