- President-elect Rodrigo Duterte tapped the professor to be the new head of the Commission on Higher Education Department (CHEd)
- Former students shared what they learned from his classes on Facebook
- Their accounts ranged from hilarious happenings to absurd requests
Ex-students of Professor Jose David Lapuz had a lot to say about him being recently appointed CHEd chairman by President-elect Rodrigo Duterte.
 Just a few days ago, Duterte named Jose David Lapuz as the new head for the Commission on Higher Education Department (CHEd). Lapuz, who taught at various universities in Metro Manila, was actually Duterte's former professor in Lyceum of the Philippines.
Patricia Licuanan is currently CHEd's chairma. Her term will expire on 2018, and Lapuz will immediately take over.
While Duterte is one of Professor Lapuz's happy students back in the day, there were some students who expressed their dismay upon hearing the news.
According to one of his former students, the number one requirement for all students in his Rizal class was to submit news clippings about him and not about the national hero. You will also definitely get to know more about him in his class because he talked more about himself than Rizal (i.e. his trips, achievements, awards, etc.). A Facebook user by the name of Janeca Racho even stated that Lapuz liked to compare himself to Rizal,"especially the things they have in common."
READ ALSO: Duterte redefends Cabinet appointments
Multiple commenters have also shared that they got a high grade even if they have put random words, stories, or song lyrics to their papers because Lapuz did not read them at all.

There is actually a reason why he discussed so much of himself during their classes -  he would ask them what they learned from himself during recitation.

He also liked to ask his students to make him coffee and grab him a taxi. Students who did those passed the class with flying colors.

READ ALSO: Duterte may ask CHEd chair to resign for failure to help poor students
To Professor Lapuz, being called 'sir' or 'professor' is not enough; he has to be greeted as 'Commissioner Professor.' He also preferred to be greeted in a certain manner,  and he would even ask them to repeat it just so the greeting would be perfect.

His greatest narcissistic act was when he brought a picture of himself and asked the students if the picture depicted "a happy man," "an aura of grace," "fulfilled," and many more.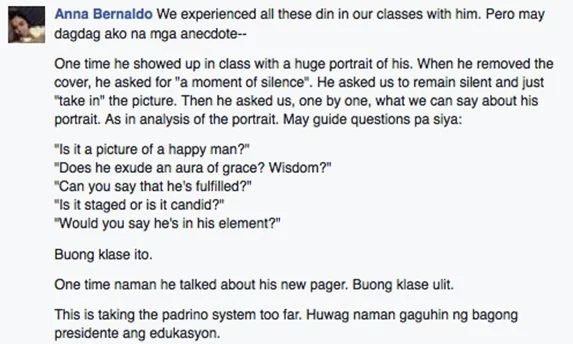 Students were asked to sing random pop songs that were not even connected to the subject like Sharon Cuneta's "Sana'y Wala Ng Wakas," and WestLife and BoyZone songs.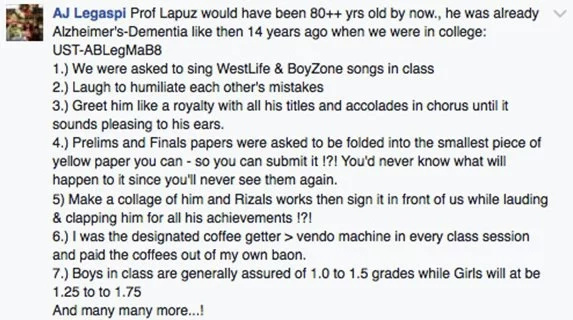 The funniest anecdote that was shared was about how everyone in his class (all 56 of them) had to touch the television as if they were praying over it while a few students were fixing it.
Will the incoming president change his mind after all of these testimonials have surfaced online?
READ ALSO: CHEd execs object to chairman's replacement
Source: Kami.com.ph